Discover more from Read More Books
Book reviews, author interviews, bookish news and lists, and more — delivered every Tuesday and Friday morning.
Over 7,000 subscribers
What I'm Reading (No. 14): the long road to 9/11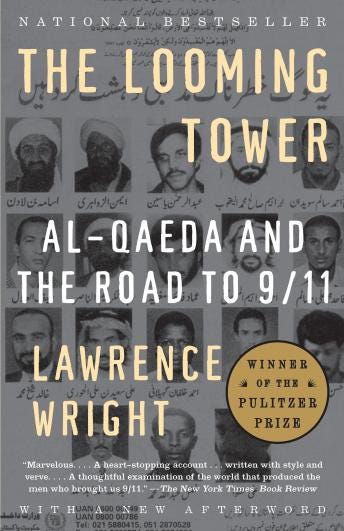 I was in 8th grade on September 11, 2001. I have vivid memories of that day, and the week that followed. The news was on 24/7, Letterman cried, and for the only time in my life, I rooted for the Mets and the Yankees when baseball resumed over a week later. It was a defining moment not only for America as a whole, but for our young Millennial generation. We came into adulthood in a nation permanently at war and with ever-widening ideological divides.

How did it really happen though? What led to Osama bin Laden's hatred for America? How did he recruit young Islamic men to commit suicide and kill scores of innocent people (both of which go strictly against their faith)? How did American intelligence miss the warning signs?

Lawrence Wright's The Looming Tower (480 pgs, 2006) won the Pulitzer Prize answering those questions. It's an incredible, fascinating, engrossing book that everyone who wants to better understand 9/11, and more so what led to that tragic day, should read.

The book covers a lot of ground, starting in the 1950s, carrying us all the way to 9/11, and somewhat abruptly ending with bin Laden and his compatriots heading into the mountains, waiting until 2011 to be found.

Perhaps most fascinating was the biography of bin Laden himself, woven into the rest of the narrative. He grew up the son of a Saudi billionaire, but was eventually cast out in the early 90s (from both country and family) due to his forming of al-Qaeda and the decision to basically declare war on the West.

Equally gripping, and also a bit infuriating, was the story of how badly American intelligence screwed up in missing the planning of 9/11. The NSA, CIA, and FBI all had different parts of the story, but didn't share any information due to agency competition, allegiances, and personal grudges. Had all the parts been put together, it's rather possible that the attack would have actually been foiled. Hindsight is indeed 20-20, though. In the midst of this part of the narrative is John O'Neill's remarkable tale (who is marvelously portrayed by Jeff Daniels in the Hulu series of the same name). I can't really believe he's such an unknown character in the story of 9/11.

For such a complex story, Wright superbly weaves together a coherent, multi-decade chronicle. It's long, and not necessarily quick reading, but I was so enthralled that the pages turned themselves and at times I couldn't put it down. It really makes me want to read Going Clear, Wright's book about Scientology, which was equally acclaimed.

After finishing the book I also immediately bought Manhunt by Peter Bergen, which covers from 9/11 to bin Laden's assassination in 2011. (I did some research and it seems to be the best of the books about the hunt for bin Laden.) I'm also curious about Ali Soufan's books (one of O'Neill's underlings and a main character in the Hulu series), as well as The Man Who Warned America, which is more about O'Neill's life.

I'd love to hear what books about 9/11 you all have read and might recommend. Again, as it was such a defining event in our generation's history, I'm endlessly fascinated by it. It's something that my kids will someday ask me about; they may very well even write papers on the topic. I want to be able to really understand what happened, and why, and who the heroes were.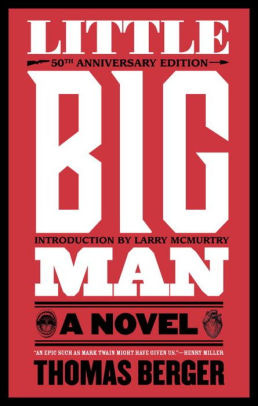 I also finished the epic Little Big Man by Thomas Berger (475 pgs, 1964).

This Western is the life story of the fictional Jack Crabb, who is our 111-year-old narrator. Crabb is thrust into Cheyenne Indian life as a young boy in the mid-1800s after his family is massacred while traveling west. From there, the story jumps back and forth between Crabb's various forays in and out of Indian life and white man life. Along the way, we run into numerous famed real-life characters of the West, including Wild Bill Hickok, Calamity Jane, and in particular, General Custer. Crabb claims to be the sole white survivor of the Battle of Little Bighorn, which takes up a little bit too much real estate at the end of the book, in my opinion. That's about my only complaint though.

It's partially satire, but also seemingly rather accurately portrays both the unfortunate stereotypes ascribed to Native Americans as well as the reality of their largely peaceful lives on the plains. There are plenty of hard-to-believe plot twists, but I took that to be part of the book's semi-outlandish and epic nature.

It's largely written as a narrative, with little in the way of dialogue, so it's not a quick read. It's extremely well written though, and in a more authentic voice than a lot of Westerns are. It actually reminded me of Lonesome Dove by Larry McMurtry in terms of its writing style — which is about as high a compliment as can be given, seeing as how Lonesome Dove is one of the greatest books of all-time, and without a doubt the best in the Western genre. I've read dozens of Westerns in the last year or so, and Little Big Man firmly has a spot in my top 5. If you love Westerns, it's a must-read.

That's all for this week — thanks so much for reading, and as always, let me know what you've been enjoying.

-Jeremy