Discover more from Read More Books
Book reviews, author interviews, bookish news and lists, and more — delivered every Tuesday and Friday morning.
Over 7,000 subscribers
What I'm Reading (No. 17): Dickens' first novel and a baseball comic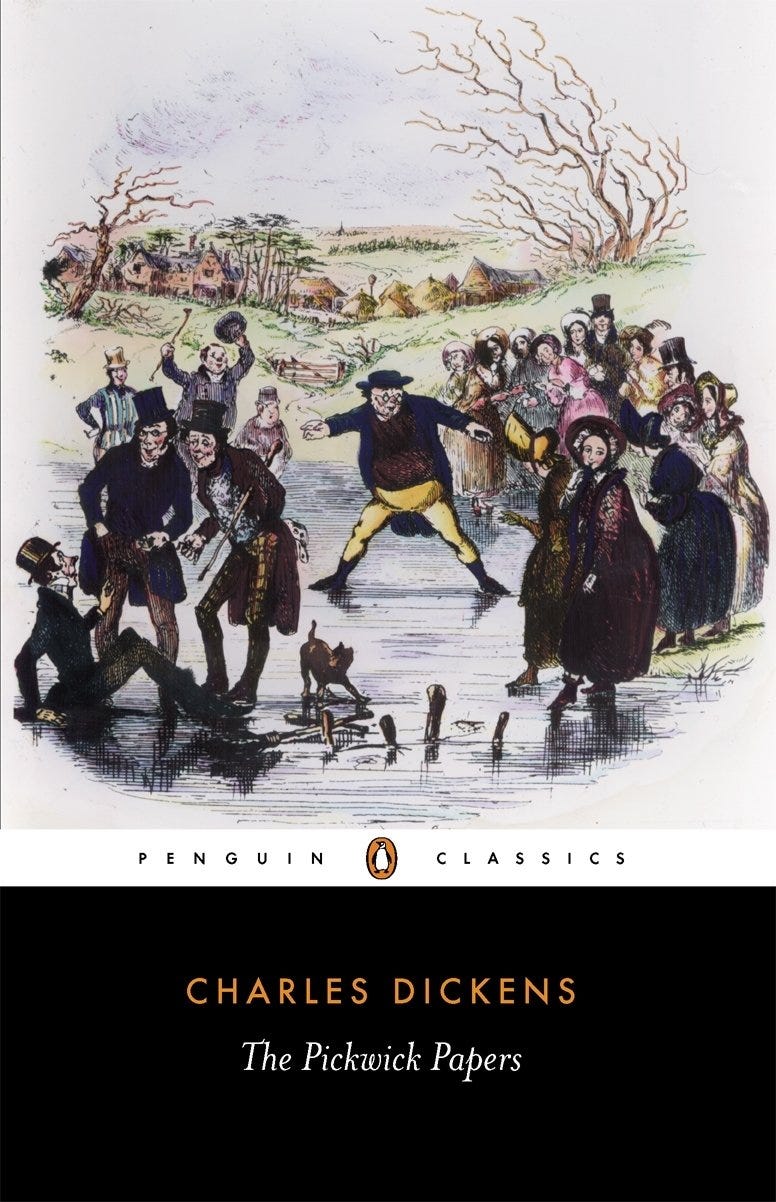 A couple years ago around Christmas time I read Dickens' A Christmas Carol, and immediately fell in love with it. The story was whimsical, the characters serious but also lighthearted, and the writing was so fun and readable for being 150 years old.

Last Christmas, I read A Christmas Carol again, as well as The Cricket on the Hearth and The Chimes (all in that same edition linked to above). I then read The Man Who Invented Christmas, about how A Christmas Carol came to be, and a love affair with Dickens was born. I decided early in 2018 that I was going to embark on reading the works of Dickens, in the order of their publishing.

First up: The Pickwick Papers (last installment published in 1837).

The novel chronicles the (mis)adventures of the Pickwick Club, a group of four portly gentlemen who decide to explore the curiosities of the English countryside. It's much like an English version of Don Quixote. If you aren't familiar with that story, Quixote basically roams around, partaking in foolish acts of bravery that aren't required of him in the least bit. For instance, he picks a battle with some windmills because he thinks they're giants. In both novels, there's obviously some sarcasm and satire in there, but also just some lighthearted fun and whimsy. And Dickens writing is so remarkable that you want to keep on reading, even if in the case of The Pickwick Papers, there's not a ton of overarching plot. Some storylines are carried through, but it's really a series of short tales of the group's travels.

At 848 pages, it took me quite a while to finish. (Many of Dickens' works are rather lengthy.) It's a delightful read, but as noted above, there's not a pulsing narrative that keeps you going. Hence the book taking me a few months to finish.

I'll write plenty more interesting things about Dickens in the future, but one thing to know is that his novels were published as serials. This is sort of how novels worked in the 1800s. An author would publish a chunk of novel each month in a newspaper, and keep writing monthly installments until the story played out. Many times, authors were paid by the page or by the installment, and Dickens would just keep on writing.

I say all that, because I imagine The Pickwick Papers being absorbed much easier in smaller chunks per month than trying to take on all 800+ pages like you would a normal novel. This first book of his was actually written and published over the course of about a year and a half.

Again, while I enjoyed it, it should probably only be Dickens nerds who read The Pickwick Papers. I write this much about it, though, because anyone with an interest in literature should know some things about the guy who's widely considered to be one of the greatest novelists of all time.

Up next: Oliver Twist, which I imagine will have much broader appeal. It'll probably be a couple months until I get to it, as I'm knee-deep into the marvelous Anna Karenina right now.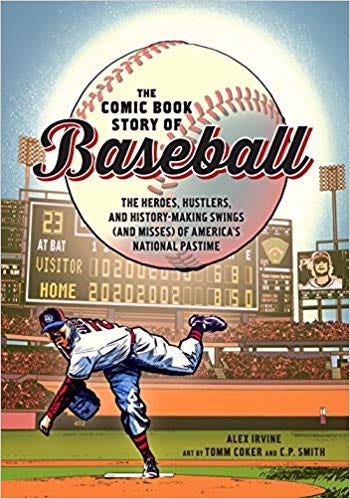 This delightful book landed on my doorstep this week, and I quickly devoured it. It's like a graphic novel, except it's the non-fiction story of baseball's history. It's beautifully illustrated, easily readable, and makes for a perfect gift for any baseball-loving person. (Father's Day is coming up! So is Mother's Day, but it's too late for that; you should already have something for Mom.)

While baseball certainly stands pat as America's pastime, it's perhaps not as much America's game — that is, born and bred here — as myth would have it. (Go figure.) Irvine walks us chronologically through baseball's biggest moments and figures. From Cy Young and Jackie Robinson and Randy Johnson, to the Dead Ball Era and the dominant 1950s Yankees and the Steroid Era, it really, wait for it . . . covers all the bases.

I've read a few baseball books, and this is definitely the most fun, and the one I'd recommend most heartily to people. Frankly, as much as I love the sport, it's easy for baseball books to get a little boring. The Comic Book Story of Baseball (176 pages, 2018) never wanders into boredom-inducing territory. (Random aside: The Last Boy, about Mickey Mantle, is probably my favorite baseball bio, in case you're interested.)

Take a look at a couple pages of illustrations: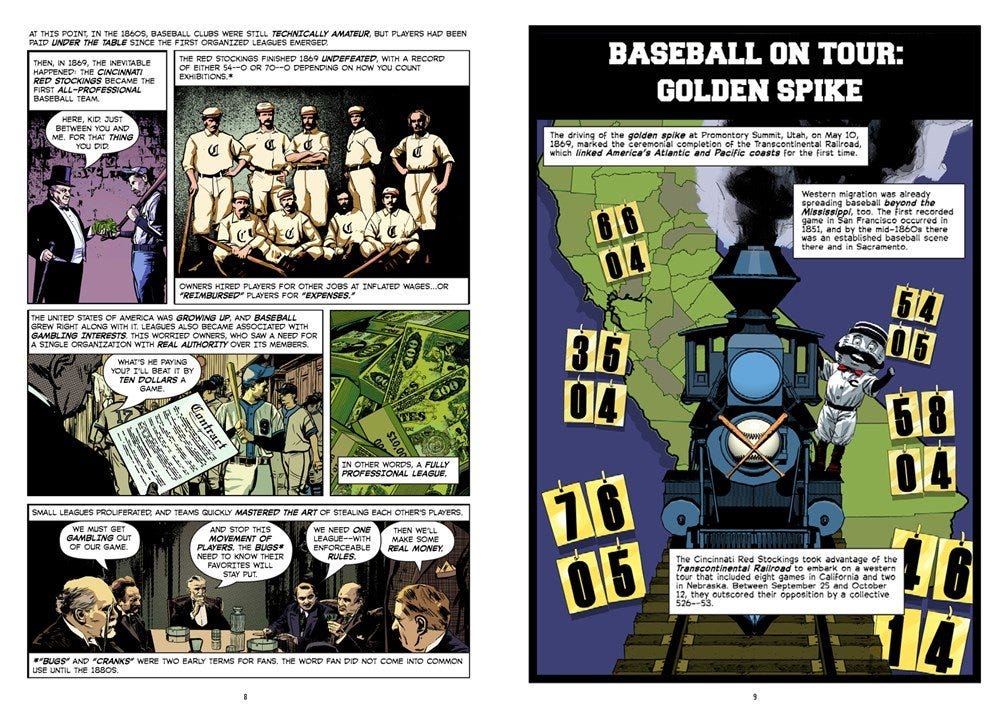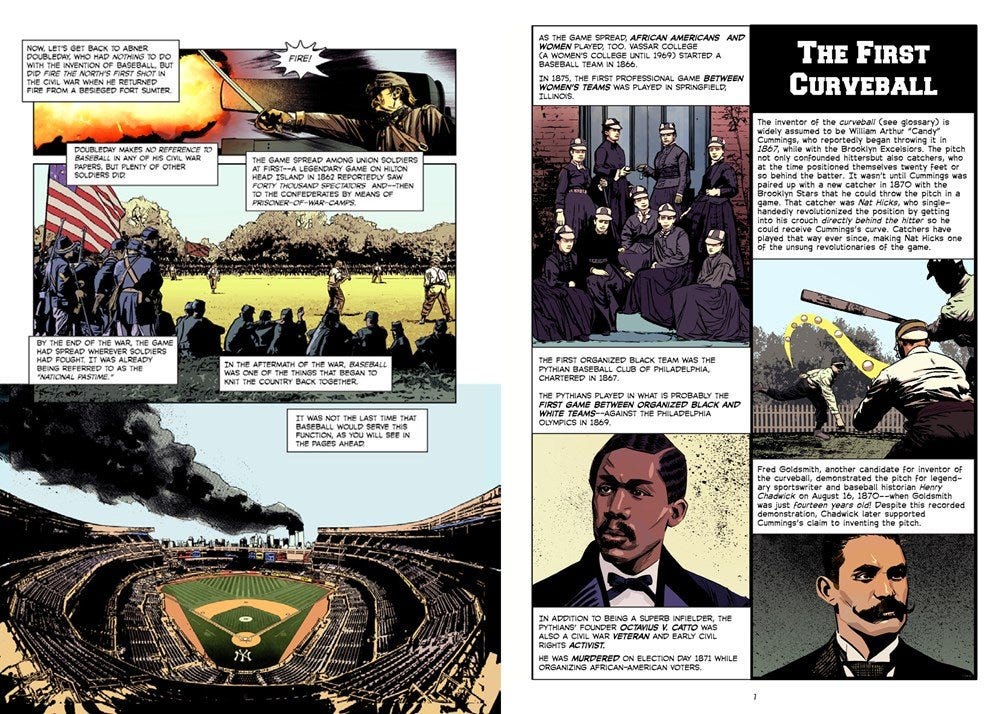 Bookish Tidbits
My reading is all over the place right now:
Let me know what you've been reading this week — I always enjoy hearing!

-Jeremy