Discover more from Read More Books
Book reviews, author interviews, bookish news and lists, and more — delivered every Tuesday and Friday morning.
Over 7,000 subscribers
What I'm Reading (No. 18): morning routines and an icon of the West
My Morning Routine
by Benjamin Spall and Michael Xander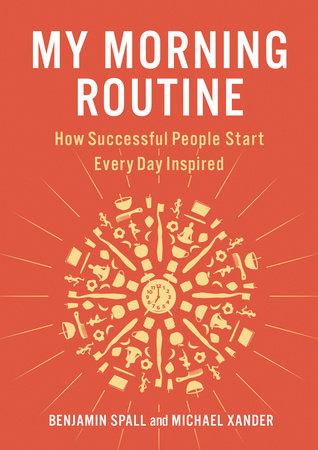 My Morning Routine (272 pages, 2018) is a quick read — rather skimmable, in fact — that's simply all about the morning routines of successful people. The idea is to inspire you to harness your mornings and create a routine that makes for not only the most productive day, but also the healthiest and most fulfilling.

It's structured like Tim Ferriss' two latest books, if you're familiar with those. The authors basically just interview successful people about their morning routines, and record the answers in this little book, with some tips and takeaways in between. Interestingly, most of the people interviewed point out the importance of crafting your own routine — and one that actually works for you — rather than taking and trying someone else's in its entirety. What works for some people doesn't work for others.

Just for kicks, I'll give you a glimpse of my own morning routine:

Since our first kid was born in 2015, I've made it a point to always get up before the kids, no matter how early that is. Thirty minutes of peace (and coffee) to start my day has always been worth it, even on weekends. So during the week, I'm up at about 4:50am (dictated by my wife's work schedule more than anything else), and on weekends it usually means 6:30am.

Since I work from home, I start the day making French press coffee using beans I've roasted myself. I've been doing that every morning for at least 5 years. The coffee can't be beat, and is absolutely worth the 10 minutes it takes. While the coffee is brewing, I tend to do a quick kitchen cleanup, which often just means emptying the dishwasher. After that, I usually have time to read for anywhere from 30-60 minutes, and it varies between personal reading and work reading (though the two often converge). Sometimes I start working right away, which in the morning takes the form of writing (I always do my writing in the morning hours; my brain turns to mush in the afternoon). I don't have to get ready for the day or drive to work, so the freedom to start things pretty casually and relaxed is a major boon for me.

The youngest kiddo is too little for a real routine, so she sort of just gets thrown in the mix, and then the oldest is up at 7am. From there, it's off to the races to get him dressed, fed, and off to daycare, so that I can return to the house and get my real workday started.

Even though I don't really need any morning inspiration — getting up early is not really a problem for me; I'd truly rather read than sleep — My Morning Routine was an interesting book to peruse. It's always fun to get a peek into the lives of successful people.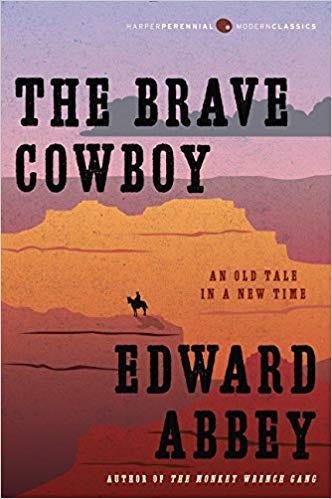 Edward Abbey is a legend of environmental, anarchist, and Western writing. He penned essays, novels, and non-fiction works, including Desert Solitaire, which makes an appearance on a number of Best Non-Fic Books of All-Time lists.

The Brave Cowboy (332 pages, 1956) was my first foray into Abbey's writing, and it did not disappoint. While it indeed falls into the Western novel category, it's also much more than that. Particularly, it's a lament of how the modern world — which was the 1950s at the time of the book's writing — is taking something away from our lives and perhaps more importantly, from our lands. The era of jet planes and city streets was taking over.

Cowboy Jack Burns is a roaming ranch hand in 1950s New Mexico who refuses to join modern society. (The scenes of his horse — named Whisky — crossing highways and tentatively walking on pavement are rather memorable.) This alone makes it stand out from other cowboy stories, which are almost always set in the 1800s. Burns tries to break his pal Paul Bondi out of prison, but things don't go quite as planned, and Burns ends up on the run with nothing but his guitar and his trusty steed.

From there, it's a cat-and-mouse story set in the desert. Abbey's descriptions of the landscape are breathtaking and unmatched in Western literature as far as I'm concerned. And the story is masterfully structured, with interwoven chapters of two different storylines that ultimately converge near the ned. It really will make you want to forgo city life and head for the hills.

My first Abbey experience was superb, and I can't wait to get my hands on Desert Solitaire, as well as his best-known novel, The Monkey Wrench Gang.

That's all for this week. Even if I'm not able to respond to all your emails telling me what you're reading, I appreciate every single one, and have added a number of books to my own list. Keep it up!

-Jeremy