Discover more from Read More Books
Book reviews, author interviews, bookish news and lists, and more — delivered every Tuesday and Friday morning.
Over 7,000 subscribers
What I'm Reading (No. 22): the food + drink edition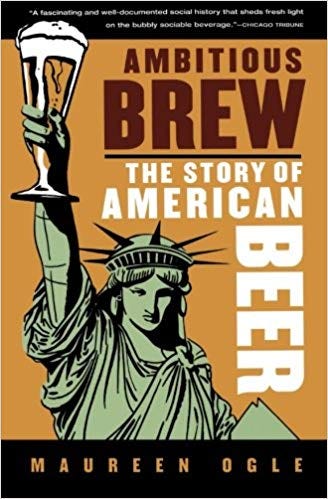 My latest work project for the last few weeks has been the testing of "cheap beers." Budweiser, Coors, Miller, Pabst, etc. As part of that, I'm re-reading a book I first took in probably 6 years ago about the history of beer in America. It was eye-opening then, and again now, as I actually come to appreciate more what the big brewers do on such a large scale.

Turns out folks have a few misconceptions about the brewing industry. Rather than being cheap swill, Anheuser-Busch in particular was at the forefront of brewing innovation when it released Budweiser in the late 1800s. While we now often scoff at the use of "adjunct" ingredients — anything that strays from barley — they were premium add-ins back then. Americans were sick of dark, heavy German beers, and wanted something lighter and more refreshing. So AB through corn into the mix, and came out with an almost clear, effervescent brew that won international accolades almost from the moment it was released. 125 years ago the stuff was actually even sold at a premium price point. The only reason its cheap today is because of the sheer scale of product being made.

And while the tide has seemed to turn in craft beer's favor, it's still only about 13% of the market. In fact Bud Light alone accounts for about 20% of all domestic beer sold in America. Despite the attention craft receives, the vast majority of people still prefer a crisp, refreshing, light-sitting beer.

Beyond addressing these misconceptions, Ogle tells a number of fascinating stories about the early titans of brewing — guys like Adolphus Busch, Frederick Miller, Joseph Schlitz, and Frederick Pabst. They were as much titans of industry as the likes of Vanderbilt and Rockefeller and Carnegie (and actually had as much money, too). Beer has always been an industry ruled by giants, and its story is the very story of American ambition in the late 1800s.

For anyone interested in beer or cultural histories (especially of the Midwest), I highly recommend Ogle's Ambitious Brew (2007, 432 pages).

3 Questions With Bill Alexander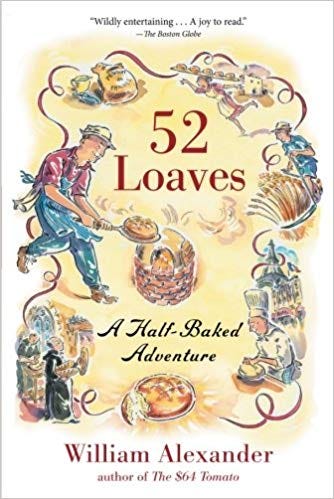 A couple years back I had an idea for a blog where I would read a book, and reach out to the author with 3 simple questions to answer. I had fairly good success in getting authors to respond, but I never really launched the project. I still have those Q&As sitting in my inbox, so figured I'd dust 'em off every now and then and share with you guys, and possibly even do new ones if you're all interested.

Bill Alexander is the author of 52 Loaves (2010, 353 pages) which is a memoir about his journey into making bread every week for a year. To absolutely toot my own horn, I've been making about a loaf a week, by hand, for a couple years now. Baking has turned into one of my hobbies, so I loved reading this book last year. Keep in mind the questions are a couple years old by now, but they still mostly hold up:

1. 52 Loaves was published ~5 years ago [edit: ~8 years ago now]. What bread-making habits are still with you today, if any? Have you moved on from the peasant loaf, or is that still your piece de resistance?

"While I no longer bake every single week (the premise of 52 Loaves), I bake larger batches every few weeks, so I always have homemade bread in my freezer. The sourdough starter that I built in 2008 from the wild yeast on my backyard apples is still going strong at 9 years of age (meaning I have fed the beast some 500 times). I have widened my repertoire from the sole peasant loaf to baguettes, buckwheat and other loaves, as well as pizza, and, inspired by the terrific Great British Bake Off TV series, I've even dabbled in cakes and croissants, but when I'm in need of comfort food, I invariably return to my old reliable peasant bread. To me, it still represents the very essence of bread." 2. I find that when I bake bread on a regular basis, my life slows down a little (it's forced to, because dough!). I'm incredibly satisfied by the feeling of doing something with my hands, and my life feels disproportionately improved by this small act. It goes well beyond the enjoyment and taste of the bread itself. What's the greatest life benefit you receive in baking?

I can see I'm talking with another true disciple here. Yes, yes, the slowing down of life, and working with your hands in a sunny kitchen on a cold winter's day, it's all incredibly gratifying and important. And then there are those aromas, the earthy smell of the yeast as the bread ferments, and a few hours later, the perfume of baking bread filling the entire house. I can't think of any activity in the kitchen nearly as satisfying, and perhaps this is because bread making, this activity that sustained our ancestors for generation upon countless generation, has become part of our DNA, that this act of turning grain into bread connects us to our distant pasts. But, you know, we wouldn't care about any of this if the bread didn't taste great, and that first bite into a piece of peasant bread, breaking through the crisp crust to reach the soft, warm crumb, makes you look forward to baking the next loaf. 3. I see a lot of apathy in regards to food — while healthy eating is in the media a lot, cooking, particularly from scratch, is not. While your book is about bread, it's also about being connected to what you're eating. What would you say to folks in regards to that general apathy?

It does seem that food — real food — has taken a backseat to almost every other facet of life, and some of the results are obvious: obesity, diabetes, and a host of other ailments: physical, mental, and sociological. I look forward to eating every single night. But I'm not going to preach to those who can't make the food preparation (or even careful food selection) a priority in their lives. Not everyone has the time or inclination to make bread or duck confit. Not everyone has the extra two dollars to buy local, cage-free eggs or the time to go the farmer's market. But anyone can sauté a chicken breast with a pan sauce of butter, wine and capers in the time it takes to get through the drive-through lane at your local fast food. The challenge is in breaking the cycle, as we're now well into a second generation of Americans who don't appreciate the value of a simple, delicious home-cooked meal (or how to make one). Perhaps this is where the schools need to get involved — once they clean up their own acts of serving up daily pizza and fries.
______

Let me know if you'd like to see more author Q&As, and what you've been reading and enjoying this week!

-Jeremy