Discover more from Read More Books
Book reviews, author interviews, bookish news and lists, and more — delivered every Tuesday and Friday morning.
Over 7,000 subscribers
What I'm Reading (No. 25): weird brains + Cork O'Connor #2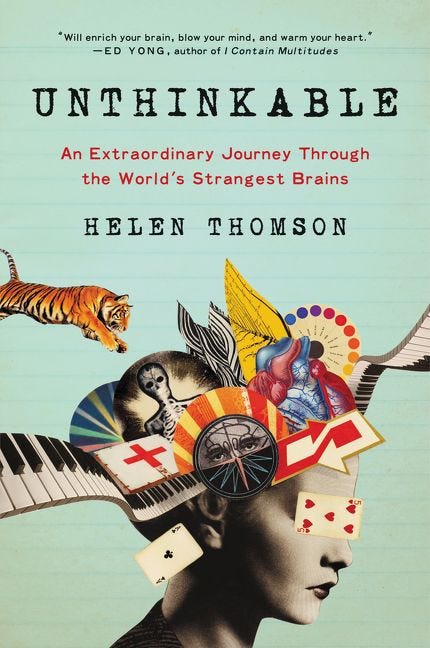 I love reading about weird brain stuff. It started with Phantoms in the Brain, which I read back in 2011 after my wife (fiance at that point) read it for class. Ramachandran wrote about a number of topics in that book, including religious experiences and the brain, and the fascinating subject of phantom limbs (when someone has an appendage amputated, they often still physically feel it).

Every brain book since seems to reference that now classic title, as well as Oliver Sacks, who pioneered and dominated this niche genre from the mid-80s with The Man Who Mistook His Wife for a Hat (which has been on my reading list forever) all the way until his death just a few years back.

Thomson adds to these endlessly interesting titles with her own, Unthinkable: An Extraordinary Journey Through the World's Strangest Brains (251 pages, 2018). Each chapter finds Thomson conversing with someone who has a very rare and very strange psychological abnormality. From mirror-touch synesthesia (you physically feel what other people do; like empathy on steroids) to the Cotard delusion (in which someone feels they are dead; they have no desire for food, interaction, movement of any kind, etc.) and much more, this book is a quick-reading guide to how wild the brain is — and how little we really know about it. Beyond just explaining the science — or really, science's best guess — behind these conditions, Thomson uniquely tries to just understand the daily lives of these people. Rather than turning them into zoo animals (as many writers would do with this topic), she humanizes their stories.

While the likes of Sacks and Ramachandran are better writers, Thomson's work is a really interesting book to read if you're interested at all in things related to the brain, and especially abnormal brains.

A Couple Other Books Finished This Week
Frederick Douglass by David Blight

This massive biography of Frederick Douglass comes out in October, but I finished it this week as a book review assignment, and it felt rather appropriate to be doing so the week of the 4th. I won't write about it in full until it's published, but it's a great book, and everyone should know a little more about "the Sage of Cedar Hill." We tend to know that he was an ex-slave and fought for emancipation, but we don't often know about what he did during the later Civil War, Reconstruction, and Gilded Age years. Pre-order it, or just wait until I give ya the full write-up in October. It's easier reading than a lot of biographies that size (~750 pages of text).

Boundary Waters by William Kent Krueger

I wrote about Iron Lake a couple weeks back, which was the first of 17 in Krueger's Cork O'Connor mystery series set in the north woods of Minnesota. After I finished that one, I immediately bought #2, and quickly devoured it. These aren't short books — 400+ pages — but they're easy reading, and as I mentioned a couple weeks ago, of higher quality than you'd normally find in the genre. I haven't bought #3 yet, only because I need to pace myself, or else I'd read them all right in a row and be sad that they were done. I'll wait until perhaps Christmas, and then have something cozy to read that I know I'll love. Anyone else pulled the trigger on Krueger yet?

June Recap
Books Finished: 8

Average Length: 338 pages

Longest: Iron Lake, 464 pages

Shortest: Pops by Michael Chabon, 144 pages

Favorites (in no particular order):
What was your favorite read in June? I'd love to hear.

-Jeremy