Discover more from Read More Books
Book reviews, author interviews, bookish news and lists, and more — delivered every Tuesday and Friday morning.
Over 7,000 subscribers
What I'm Reading (No. 26): The best novel of the year? Nope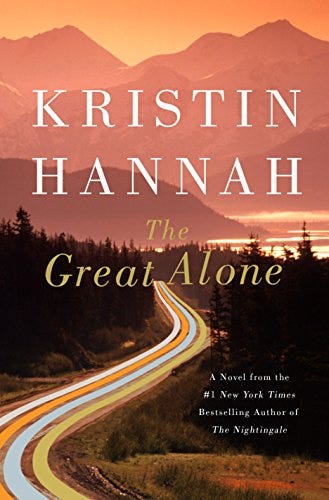 In one of my first newsletters, I sung Hannah's praises about 2015's The Nightingale. It's a wonderful book. The characters are strong, the story is believable, and while the writing isn't award-worthy, it was sure good enough to keep me quickly flipping the pages.

So when her new book, The Great Alone, came out earlier this year, I happily bought it and had high expectations. And when Amazon recently announced it as the best novel of 2018 so far, those expectations grew even higher.

At the start, Hannah's new novel lived up to the hype. It's 1974, and we're introduced to the Allbright family: 13-year-old Leni, Ernt (Dad), and Cora (Mom). Ernt is a Vietnam vet, and after losing yet another job in Seattle and inheriting some land from a friend, decides to move the family up to a tiny town in the Alaskan bush. It's obviously quite a transition for a teenage girl, but the beauty of the land and the escape from the bustle of modernity has a certain allure for the whole family. Ernt quickly reveals a dark, abusive side though, and gets in with a troop of survivalists. Meanwhile, Leni meets Matthew, which Daddio doesn't like. Ernt becomes more and more unhinged, Leni and Matthew become closer and closer . . . and then the novel itself sort of falls apart.

The final third or so has a number of plot twists that are not only literally unbelievable, but totally unnecessary. One in particular feels like it's needlessly piling pain upon pain on this young woman (Leni is 18 at this point in the book). One of the plot twists alone would have been fine; all of them added up to me just sort of shaking my head during the last 150 pages or so.

I also thought, from the beginning, that it read far more like a Young Adult novel than an adult work of literature. Like the reading level would be fine for young teens, especially since the main protagonists are teens. There's nothing wrong with that, necessarily, but that's not how the novel has been sold/marketed. And I frankly find it crazy that Amazon book reviewers called it the best novel of 2018 so far. It's quite possible that Hannah is riding the coattails of a previous massive bestseller (which happens plenty in the publishing world).

All of those criticisms aside, I don't regret reading the book. The vivid descriptions of life in Alaska were quite good (and made me really want to go there on vacation), and gee dangit she keeps the pages turning and makes me want to know what's going to happen, even if it does feel a bit droll. At this point, I'll still give her future novels a shot, but she's on thin ice.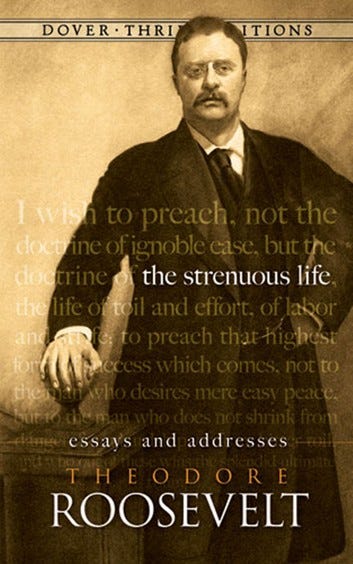 The Strenuous Life is a series of essays and speeches given by TR from 1899-1901 — right before becoming President in the fall of 1901. While he made his name as President, TR actually made his living before that largely as a writer. For being 100+ years old, his stuff is pretty readable. This collection is largely about living life with vigor, not taking the easy road, and how the personal character of each person individually constitutes the moral fiber of the nation.

There's the usual expansionist/militaristic stuff that you always get with TR, but there are so many inspiring nuggets that I'm rather glad I read it. He's the Art of Manliness's spirit animal (check out all our writing/podcasts about him here), and I hadn't read much of his own writing — of which there is plenty.

Next up I'll probably give Rough Riders a shot, which is the title for which he became most well-known as a writer. I also happen to have a great-great-grandfather, Lt. Bugbee, who stormed up San Juan Hill right next to TR, and is actually mentioned in the book. Bugbee was shot in the head, ordered by TR to go to the rear for treatment, and according to a newspaper account, "Mr. Bugbee under great military excitement ordered Col Roosevelt to go to hell." And I officially win for best great-great-grandparent story.

What are you reading this week? I'd love to hear.

-Jeremy