Discover more from Read More Books
Book reviews, author interviews, bookish news and lists, and more — delivered every Tuesday and Friday morning.
Over 7,000 subscribers
What I'm Reading (No. 27): my favorite climbing/hiking books
This week I finished but a single book (though I should finish Ron Chernow's massive 900-page biography of George Washington this weekend), so I thought I'd dig into my favorite mountaineering books, which is a favorite subject of mine. First though, the book I finished: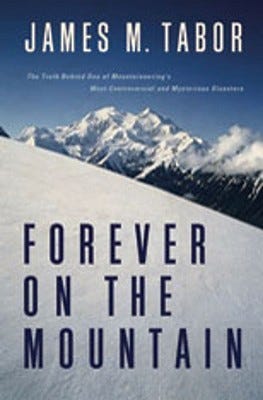 Tabor's 2008 book is about the 1967 climbing disaster on Denali which left 7 men atop the mountain, dead. (They are in fact still there, unfound.) At the time, it was the third deadliest climbing disaster on record, and prior to it, just 3 people had perished on North America's highest peak.

Before reading the book, I had no idea about this Denali tragedy. Plenty of other disaster accounts, particularly in the Himalayas, garner more attention, but this is a fascinating and tragic story that obviously occurred much closer to home. It seems, in fact, that Denali isn't given enough credit in the annals of climbing history. It's a truly massive mountain that resides 2,500 miles further north than Everest, making for epic snowstorms, even in the middle of the summer climbing season.

It also requires, arguably, a more grueling and unpredictable ascent. On Everest, climbers start at 18,000 feet before heading up to 29,000. On Denali, climbers start at a paltry 6,000 feet or so and climb up to over 20,000 feet.

The 1967 expedition was led by 24-year-old Joe Wilcox, who has received unending criticism for his leadership of the 12-person crew. The group split up, summiting in two groups — generally a no-no on major climbs. The first group of 5 made it down okay, but nobody from the second group of 7 did. The reality, as Tabor rigorously explains, is that an unforeseen record-breaking storm pounded the second group with tornado-strength whiteout conditions over a period of about 7 straight days. Winds reached 300 mph (yes, you read that right), and temps plunged to as low as 30 below zero. Nobody was going to survive that storm, no matter how well or poorly led.

While it's likely that only mountaineering-book-reading nerds will enjoy this book, I am firmly one of those people. I will admit, though, that at 432 pages, it was about 100 pages too long. While Tabor's writing was often poetic in its moving analysis and descriptions of climbing (and climbing brotherhoods), this is definitely an investigative book, often including, for instance, pages of radio communication transcripts. That said, if you're into this genre, you'll love it.
My 5 Favorite Mountaineering, Climbing, and Hiking Books
I've read a lot of books in this genre. In combing through about a decade of reading logs, I actually had even more to choose from than I realized, and it was really hard to narrow it down. My five favorite, in no particular order:

Into Thin Air by Jon Krakauer. Duh. This book is on most "Best Non-Fiction Books Ever" lists, let alone any list of mountain climbing books. Krakauer's first-hand experience as a member of the ill-fated 1996 Everest expedition is a legendary read.

Turn Right at Machu Picchu by Mark Adams. Machu Picchu, the famed ancient Peruvian civilization, is nestled among the very high mountains of the Andes. This travelogue explores not only the history of the city, but how it was found, and the experience of hiking your way to it. It's a wonderful read.

The Last Season by Eric Blehm. The story of National Park Ranger Randy Morgenson. In 1996, the man who had spent his career in the Sierra mountains often helping lost hikers, disappeared himself. Like Into Thin Air, it serves as a cautionary tale, reminding and warning us that even the most seasoned hikers can succumb to the wild. Truly a gripping book.

On Trails by Robert Moor. A short, but great book about life's trails, both metaphorical and literal. It's a history of trails (which is truly riveting, I promise), a future of trails, and a meditation on how trails connect us to our origins and to each other.

Touching the Void by Joe Simpson. Another legend in the mountaineering world, this book chronicles Joe's unbelievable survival story in the Andes. He and a climbing partner summited a 20,000 peak in Peru, only to have a terrible accident on the descent (which is often when accidents happen). Simpson ended up being cut from a rope by his partner, falling into a crevasse and breaking his leg, ultimately being left for dead. He then crawled his way down to safety. You'll be shaking your head in disbelief on nearly every page.

That's all from me this week. What you all reading?

-Jeremy