Discover more from Read More Books
Book reviews, author interviews, bookish news and lists, and more — delivered every Tuesday and Friday morning.
Over 7,000 subscribers
What I'm Reading (No. 31): the most powerful woman in history
As with last week, I had intentions of covering a couple books, but Queen Victoria stirred up too many thoughts. I in fact cut my original text about in half, for your sake. You're welcome.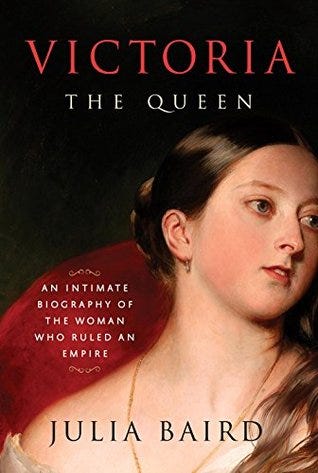 Published: 2016
Pages: ~500 (plus another couple hundred in notes)

I know, I know. Another big biography. I just can't help it right now. When I made the choice to read more biographies of women, I figured I'd start with one of the most powerful people in world history: Queen Victoria. Her long reign over the British Empire lasted from 1837 (when she was just 18) to her death in 1901.

Julia Baird set out to write Victoria: The Queen after covering the 2008 election and realizing how poorly women in power are written about (Hillary Clinton, in that case). It was a tall task, given how tightly the royal household controls their family records, diaries, letters, etc.

Victoria has of course been written about before, though surprisingly sparsely given her status, and quite a few of those books focus on her marriage and/or children. (In all fairness, her family tree is just stupidly intriguing with the likes of Kaiser Wilhelm II and Alexandra Romanov being her grandchildren.) What Baird wanted, though, was to uncover the Queen's inner life: her ideas, decision-making, and influential, but largely unknown, political dealings.

In short, the author did a masterful job and revealed a side of the Queen that goes beyond the black mourning clothes she was well-known for in her later, widowed years.

There are so many interesting threads in the book that I could write about, but what I found most gripping was Victoria's power struggle with her husband Alfred. The Queen was actually a single and very politically involved woman for the first three years of her reign. But then she met Albert. They both believed in a traditional 19th century family structure: man at the top of the totem pole and woman running the household and raising the children. This understandably presented a problem in their own dynamic because of Victoria's position as ruler of the most powerful empire on the planet.

By all accounts, Alfred was a bit power-hungry. He wasn't keen on his wife, clearly of lower intellect and inferior powers of deduction, having such political influence. While they certainly loved each other immensely, Victoria, at least partially intentionally, snuffed out the passionate flame of leadership that burned within. She came to believe that she actually was of lower intellect, and incapable of making important decisions.

And it was like that for about 20 years until Albert's sudden-ish death.

Victoria was utterly, despondently heartbroken. And that's quite an understatement. Despite the power struggle, their love for each other was very real and very deep. (The Queen in fact wore black for the rest of her long life.)

And yet, Victoria was to have another 40 years on the throne.

After a decade or so of intense and debilitating grief, the small ember of ambition that remained alive in Victoria's chest began to fire up again. She more actively voiced her opinions in military and legislative matters. She again took up regular meetings with Britain's top political brass. Her former openly opinionated self returned.

That transformation — from fiery and opinionated teenager, to doting and deferential wife and mother, and back again to her old spirited, albeit now grief-stricken, self — was fascinating to read about.

There are lessons in there that I'd want my daughter to learn that I don't have room to fully meditate on in this particular space, but the gist is that I don't ever want my little Willa to lose who she is — her animating fire — because some person or some culture/society falsely leads her to believe that she's inferior and incapable of making a difference.

While Queen Victoria wasn't anywhere near a perfect leader (has any on that high a stage ever been?), she certainly had plenty of admirable qualities.

Victoria: The Queen is a highly recommended book for all varieties of people. It's long, but fairly easy reading if you're at all into history, world politics, studies in power, or even just juicy royal gossip (Victoria was quite a salacious woman).

Thanks for reading everyone; I know I've been heavy into biographies lately. While that trend will likely continue, I'll keep my writings a little snappier, and make sure to have room for the other stuff I'm reading too.

A few other books I'm in the middle of:
Kickflip Boys by Neal Thompson — It's gotten good reviews, but I'm not real into it. I'll finish, but it'll be more of a quick skim.

Seabiscuit by Laura Hillenbrand — So good. Seriously, so so good.

The Rough Riders by Theodore Roosevelt — A little dry so far, but I have a great-great-grandfather mentioned in it, and it's short, so I'll keep reading.
For some reason I haven't been able to get into a good novel anytime recently, but I just bought Exit West, and I have high hopes. I was a big fan of The Reluctant Fundamentalist.

Per usual, let me know what you're reading and enjoy as well!

-Jeremy