Discover more from Read More Books
Book reviews, author interviews, bookish news and lists, and more — delivered every Tuesday and Friday morning.
Over 7,000 subscribers
What I'm Reading (No. 48): The Giver + Xmas books
This week I finished Lois Lowry's Giver Quartet. It was marvelous, and totally exceeded my expectations. An instant favorite.

I also wrote up an article for the Art of Manliness on 6 books that are guaranteed to put you in the Christmas spirit. I'll recap that piece below.

One last thing before diving in: My Morning Routine (a book I featured here back in May) started as a website. Each week, they post one new routine, and it's usually someone famous or influential or who owns a business or something — Ryan Holiday, Gen. Stanley McChrystal, Jillian Michaels, Ariana Huffington, etc. Well, this week they interviewed me. Check it out if you're into that sort of thing. (And welcome if you arrived at this newsletter because of it!)



Published: 1993 - 2012
Pages: 864 pages total, but it reads very quickly

I first read The Giver just a couple years ago, though many people read it in middle school or high school. As I did, you probably only read that first book in the series. This time around — reading all four — it was even better. And even though it's labeled as a teen or YA book, it's immensely enjoyable for readers of all ages, and carries moral and philosophical ideas that can be reflected on throughout one's life.

Let's take a brief look at each of the four. The general setting is some sort of future dystopia where the modern world has crumbled away and been replaced with independent and mostly technology-less communities.

The Giver features young Jonas, who's just turned 12 and is about to be assigned his lifelong role in the community. His village is seemingly utopian, but it's also colorless — literally. Basically, it's missing all the things that make for an enjoyable and fulfilling existence. Jonas' new role will change everything though. The most enjoyable and unique story of the series, I think.

Gathering Blue is about Kira, an orphan who has a special talent. She's recruited by the town's leadership to use her gift for the benefit of the society, but not everything is quite as it seems. After reading, you'll wonder how this story is connected to the The Giver.

The Messenger is next, and connects The Giver and Gathering Blue — almost right away. The primary protagonist is Matty, who serves as a messenger between various villages in this dystopian world. He discovers a special gift of his own which will soon be put to use.

Son — the longest installment by far — concludes the series. It's mostly about Claire, who grew up in that same town as young Jonas from The Giver. She was a birthmother, but her son was taken from her. She spends her life searching for him. Wraps up the whole series masterfully.

If you read The Giver early in life and as a school assignment, it's worth reading again, and taking in the other books in the series too. It's a timeless story about community, love, meaning, and what makes life worth living. The characters are as memorable as I've ever come across, and I can't wait to read these books with my kids.

There's so much more I could write about this series (and perhaps someday I will), but this newsletter is already too long. So let's keep going.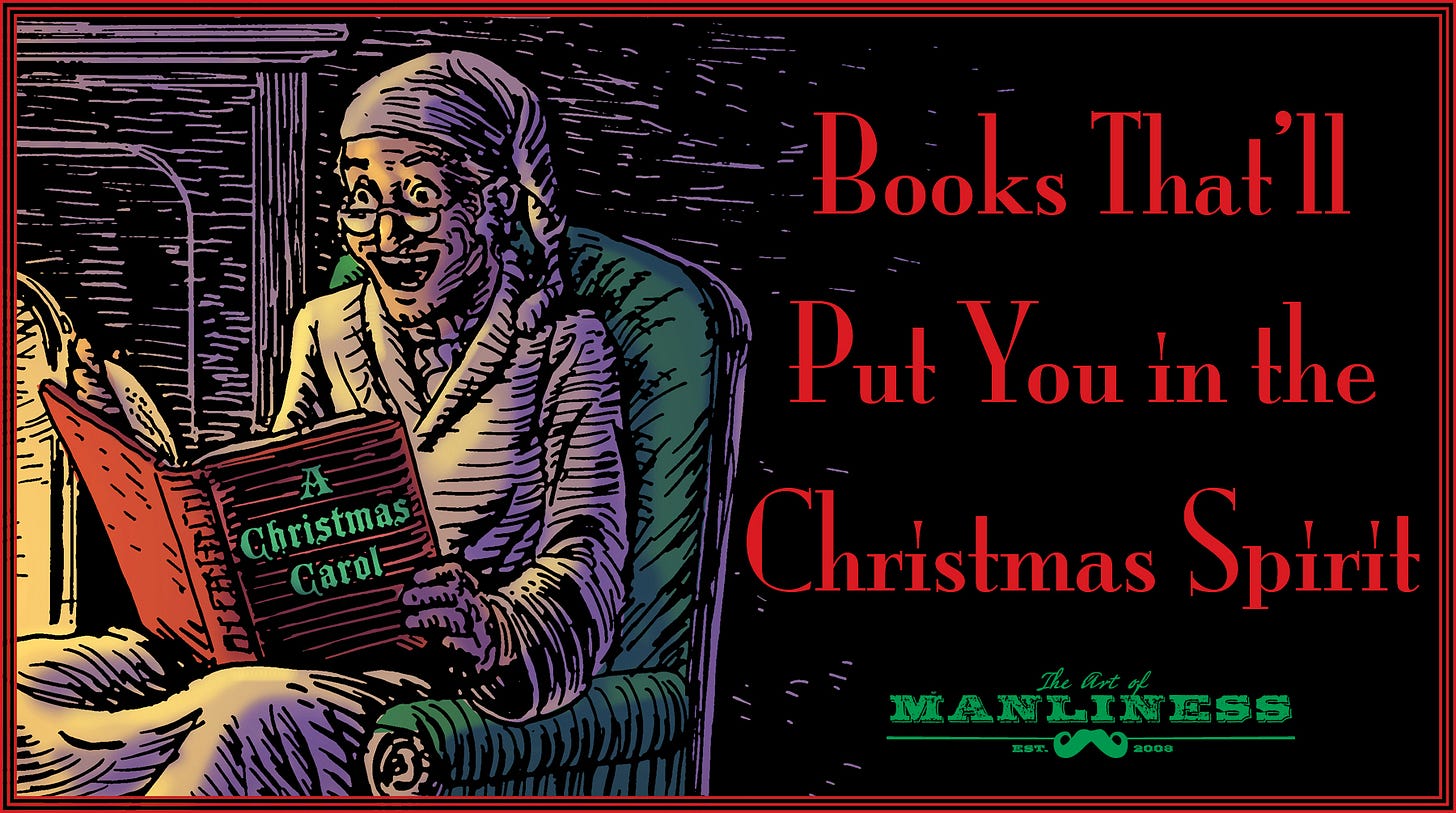 As mentioned above, this article ran on Art of Manliness last week. I won't put paste it here in full (because it's longish), but here's a quick recap of the 6 books I chose. Click over to the article to read the whole thing.

1. A Christmas Carol by Charles Dickens. The quintessential Christmas tale is famous for a reason. Dickens' novella has been enormously popular ever since being published in 1843.

2. The Man Who Invented Christmas by Les Standiford. If you've read A Christmas Carol and really enjoyed it, the next book to read is this one — the story behind the story. It's really quite riveting, and for me, cemented a love for Dickens.

3. Christmas: A Biography by Judith Flanders. Even mythical tales and seemingly unexplainable traditions have origin stories. In this book, historian Judith Flanders set out to uncover the real history of Christmas as a celebrated holiday.

4. Letters from Father Christmas by JRR Tolkien. This is a collection of letters that Father Christmas (Tolkien himself) sent to the Tolkien children for over 20 years in the first half of the 1900s.

5. Rocket Men by Robert Kurson. The epic story of Apollo 8 — a mission which captivated the world during the holiday season of 1968.

6. The Giver by Lois Lowry. There are a couple scenes in particular that will remind you that Christmas memories are some of the most warm and pleasing you'll ever have.

That's it for me this week. Please let me know what you've been reading and enjoying. I always like to hear. Also feel free to reach out if you need Christmas gift book recommendations, particularly for your history/biography-loving dad or grandpa.

-Jeremy