Discover more from Read More Books
Book reviews, author interviews, bookish news and lists, and more — delivered every Tuesday and Friday morning.
Over 7,000 subscribers
What I'm Reading (No. 51): the Korea edition
This week I happened to finish a couple books starring Korea. I didn't plan it that way. I put a hold on Pachinko at the local library a couple months back and it finally came up right before Christmas. And then without really even realizing it I also picked up Hampton Sides' new On Desperate Ground, which is about the (in)famous Battle of Chosin Reservoir during the Korean War.

Both books were crazy good, so let's get to it.

Published: 2017
Pages: 485

I actually first heard about Pachinko last spring from a reader of this newsletter (shout out to Susan!). Since then, I've seen it pop on various lists, and finally had to just give in and read it.

This is a hulking and stirring novel that spans the generations of a Korean family for over a hundred years starting in the late 1800s. It's character-driven, and largely follows Sunja from her birth in 1910 all the way through the lives of her children and grandchildren.

Sunja's family events tend to mirror Korea's identity crises — first being occupied by Japan and then being sliced and diced by the Allied nations after WWII and into the Korean War. So Sunja's family moves to Japan and sort of lives as outcasts in a nation that resents their kind. And that's where pachinko enters the picture: pachinko is a gambling arcade game similar to pinball. You'll find parlors all over Japan, even today. It's considered somewhat of a seedy enterprise (much like casinos here), and they're often run by Koreans. You can sort of guess where the plot unfolds.

It's hard to give stuff away because so much happens in this book. I was more deeply interested in these characters and more drawn in by the beautiful writing than I have been with a novel in quite a while. It opened my eyes to a culture (and decades of major events) I previously knew nothing about. And I often felt like I was right there with them.

It's a novel that's often sad, but doesn't necessarily stay that way. And even though the characters drive the book, there was enough plot to keep the pages moving at quick pace.

Three times now I have found myself writing too much about Pachinko and deleting it, for your sake. So I'll stop. I have a couple minor complaints, but nothing that would keep me from heartily recommending this book. It's long, but oh so worth it.

I'm curious about Lee's first book — Free Food for Millionaires. Anyone read it?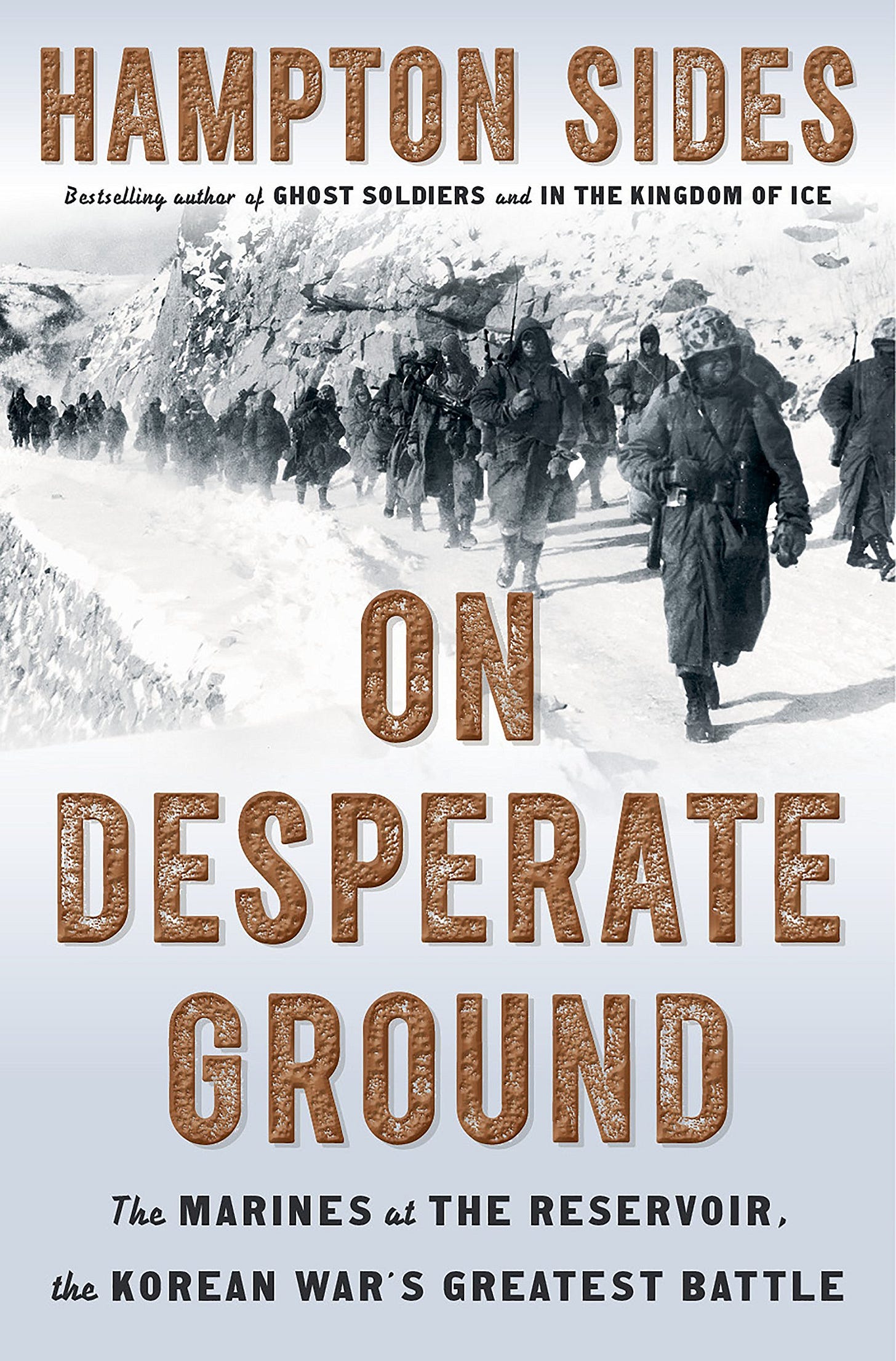 Published: 2018
Pages: 337

The Korean War is often referred to as America's "forgotten war." That phrase might now even be a bit of a cliche, as recent years have seen quite a few books released on the subject. While there are innumerable stories to be told, many center around its most famed battle: the Battle of Chosin Reservoir.

On Desperate Ground covers this battle, and is truly one of the better history narratives I've ever read. I was irrevocably hooked from the very first chapter.

What sets this book apart is how well Sides sets the stage for the battle that unfolds. He gets into the whys and hows of the war before getting into the nitty gritty and often gory details. It's written and structured and reads like a novel with clear protagonists and antagonists (often being US leadership rather than enemy soldiers), page-turning battle scenes with truly unbelievable acts of individual courage and heroism, and breathtaking descriptions of nightmarish landscapes and climates (with temperatures during the fighting plunging well below zero).

Sides writes better than I possibly could what sets the Battle of Chosin Reservoir apart from other engagements, and makes it so eminently worth telling about:
"Few battles can boast so many notable instances of individual courage, carried out on such inhospitable terrain, in such impossible weather, in conditions of such intimate combat, against such overwhelming numerical odds. The extremity of the predicament brought to the fore a naked survival instinct, a ferocious camaraderie, and a rare improvisational spirit."
So many reading list additions here. Sides immediately got me interested in learning all I could about the Korean War and its primary players, so I added to my list a bunch of books in that realm — only a couple of which I've already bought . . . sorry Jane. I also now want to read all of Sides' other books. I've read Hellhound on His Trail, about the hunt for MLK's killer, which was great, so I had some inkling this book would live up to the hype.

I've not read many books about the Korean War (Adam Makos' fabulous Devotion being the only other one), but On Desperate Ground really seems like the perfect, heroic starting point. Again, one of the better history books I've read, and one that I'll be recommending for a long time to come.

---

That's all from me this week. Happy reading, and please let me know what you're digging into to start the year! I appreciate your inbox space.

-Jeremy