Discover more from Read More Books
Book reviews, author interviews, bookish news and lists, and more — delivered every Tuesday and Friday morning.
Over 7,000 subscribers
What I'm Reading (No. 58): exploration and survival
Stories of exploration and adventure, particularly non-fiction ones, have always been for me what Book Riot calls "genre kryptonite" — that subject of book that's guaranteed to keep your attention, and the section of the bookstore you'll always visit first.

In the last couple weeks I've finished two books in that vein: Alone on the Ice and The Lost of City Z, both of which have long been acclaimed as superb modern narratives of historic explorations.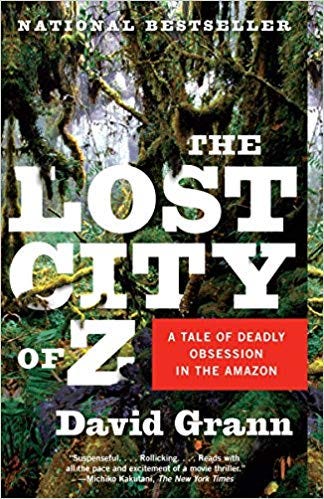 I was first introduced to David Grann when Killers of the Flower Moon came out a couple years ago. I was immediately hooked, and The Lost City of Z had since been on my radar. I finally picked it up, and it deserves a firm spot near the top of any list of non-fiction adventure/exploration books.

It follows a couple storylines. The primary is the exploration of the Amazon in the early 1900s by Percy Fawcett. While his first goal was purely scientific, Fawcett was soon entranced by the idea of finding the lost city of "Z" — an El Dorado-esque civilization that left behind hoards of gold and treasure.

He had only marginal proof of its existence, and yet spent decades searching for it in what I came to believe is probably the harshest, most difficult environment on earth: the Amazonian Rainforest.

With its abundance of moisture and fauna and flora, you'd think it would actually be easy to stay alive. But in reality, those things work against human exploration. Once something gets wet it stays wet, biting/burrowing insects run rampant (inside the body in many cases — gives me the heebie-jeebies thinking about it again), and most food/water contains some form of poison or disease or invisible parasite. And I haven't yet mentioned the numerous tribes of natives who distrusted white explorers. Ultimately, Fawcett and his son disappeared in 1925, at the height of their fame.

So Grann, in the secondary storyline, sets out to find him. The problem is that hundreds of others have done just that, and no trace of Fawcett or Z has ever been found. Grann actually estimated that up to 100 others have died looking for famed explorer and his lost city.

It's a gripping, page-turning story that's history, mystery, and modern adventure all wrapped into one tightly-written narrative.

I'll leave you to read the book to find out what Grann ultimately found. If this is a genre you're into, The Lost City of Z is a must-add to your reading list.

Related: The Lost City of the Monkey God (just as good, and adds a suspenseful plot twist) and Turn Right at Machu Picchu (not necessarily a page-turner, but reveals a lot about South American exploration).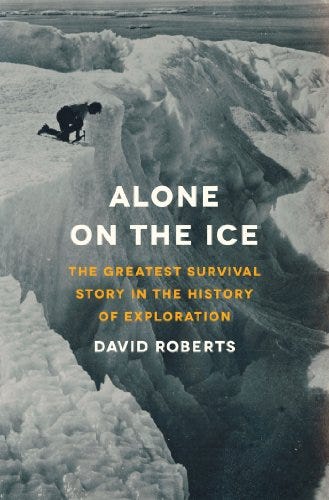 With the subtitle "The Greatest Survival Story in the History of Exploration," this is another title that had long been on my reading list. The dead of winter seemed to be the perfect time to dig in.

Don't get me wrong: this is a very good book. But, I do wish the actual survival story encompassed more than just the final third or so. The book is actually sort of a mix of biography of polar explorer Douglas Mawson, as well as a recap of the Antarctic expedition he led from 1911-1913. Part of Roberts' point is to give more credit to that expedition, which doesn't get as much attention as the likes of Shackleton, Amundsen, and Scott.

After that's all taken care of, we get to the truly crazy survival portion.

Mawson and two crewmates made it a few hundred miles from this basecamp along Antarctica's coast. (It should be noted that they found literally the windiest spot on the continent, with average winter wind speeds over 100mph.) On the way back, one crewmate — the one with most of the supplies and sled dogs — fell through an ice crevasse to his death. Eventually, the other crewmate deteriorated as well, and died in madness about 100 miles from basecamp.

So Mawson continued alone, while his own body started to fail him, including the bottoms of his feet basically falling off. At one point he fell through a crevasse and only saved himself by climbing up 20 feet of rope in a severely weakened state — twice. (On his first try, he fell while nearing the top of the ledge.) When he made it back to basecamp, he was so emaciated that nobody there recognized him. They also informed him that the rescue ship had departed just hours earlier, and they would have to stay another entire winter in a small hut. Can you fathom the mental agony? But at least he was alive!

I'm not sure Alone on the Ice quite lives up its subtitle — I've read plenty of crazy survival stories — but it's certainly up there. Read it during the winter if you're feeling bold; read it during the summer if you feel like you need a good chill.

---

That's it for me this week. I'd love to hear what your own "genre kryptonite" is. Thank you for your time and inbox space. I really appreciate it.

-Jeremy