Discover more from Read More Books
Book reviews, author interviews, bookish news and lists, and more — delivered every Tuesday and Friday morning.
Over 7,000 subscribers
What I'm Reading (No. 61): the world breaks down
This week I finished up a couple cool books that happened to be somewhat related in theme. One was a very interesting non-fiction called Meltdown, about how man-made disasters happen and what they can teach us about success/failure. The other was a wonderful novel called The Dog Stars about a guy named Hig trying to survive in a post-apocalyptic world that's been ravaged by a flu.

Both feature breakdowns; one is about how they happen, the other is about how to respond — and find happiness — in the midst of what's already happened.

Let's dig in a little more.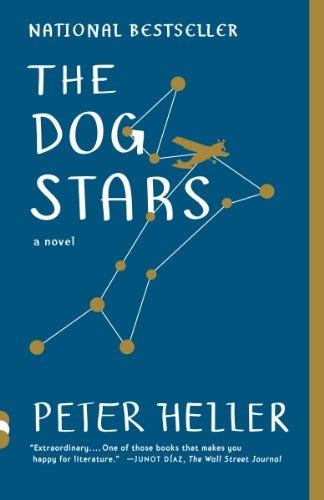 Published: 2012
Pages: 320
I've always been a sucker for post-apocalypse novels. Especially the ones that dwell a little more on human nature than on pure survival. I'm talking The Stand, The Road, California, The Passage, Station Eleven — these are more literature than pure thriller (though they are often still heart-pounding).

Enter Peter Heller and The Dog Stars.

I loved this book almost right away for the simple fact that it's set in a small town just north of the Denver metro. Hig is a nice guy pilot who's holed up at a small airport with a crusty, gun-nut survivalist named Bangley. They live an Odd Couple-like existence in a world in which 99% of the population has been wiped out by a flu pandemic. Hig, with his flying skills, surveils their perimeter in his small airplane, and Bangley is the tactical guy, fending off plenty of bad guys.

One day during Hig's airborne patrols, he hears a faint ping from a far off airport — one that's beyond his turnaround range of making it back home. And one day, three years later, he decides on a whim to go after that ping. What happens is a surprising and wonderful story, and one that I'll leave you to wonder about until you pick it up yourself.

What's differentiates The Dog Stars from others in the genre is what makes it so great. The earth itself is damaged, but still viable. Hig and his trusty dog take R&R excursions into the mountains to just fly fish, which they both seem to genuinely enjoy. There are meditations on the simple joys of flying. This isn't a wasteland novel. There's still beauty — as well as friendship and love — in the world.

It's also just really beautifully written; lyrical and poetic, with a lot of short, staccato sentences that read like journal entries which aren't quite fully formed. There's also a stream-of-consciousness element that I honestly don't typically enjoy, but there's enough plot here that it didn't bother me at all.

I have very few complaints, and highly recommend this book for fans of any of those apocalypse lit titles I mentioned at the start.

Next up: Heller's brand new, highly acclaimed The River.

Meltdown
by Clearfield & Tilcsik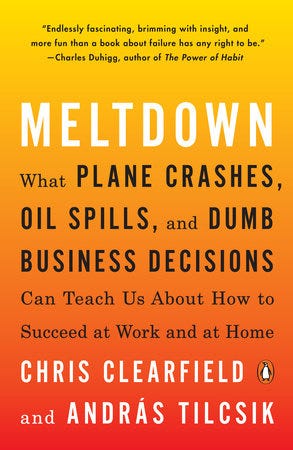 Published: 2018
Pages: 245

As our world gets more technological in nature, it also gets more complex. Softwares interact with hardwares in infinite, non-linear ways. A small glitch in one system can cause big problems in an unrelated system. Plane crashes (sadly, especially relevant this week). Nuclear disasters. Banking hacks and failures.

How does this stuff happen? What can these man-made disasters teach us about success and failure in our own lives and businesses? Perhaps most importantly, as our world only continues to get more complex, can this stuff ever be prevented?

The authors take the approach of presenting a boat load of super interesting case studies — many disasters you're familiar with, and plenty you're likely not — and then asking what those examples can teach us. (It's structured a lot like Deep Survival, if you've happened to read it.) I don't always love books loaded with case studies, but when those examples are disasters, it's a lot easier and just plain more interesting to read than a bunch of psychology research cases.

It's sort of a hybrid business/self-improvement book, but with a very unique approach. Memorable books in those genres are harder and harder to come by, and Meltdown is one of them.

---

That's it for me this week. What are you reading and enjoying this week? As always, thank you for reading.

-Jeremy