Discover more from Read More Books
Book reviews, author interviews, bookish news and lists, and more — delivered every Tuesday and Friday morning.
Over 7,000 subscribers
What I'm Reading (No. 67): The Hate U Give + funny stories
This week I finished 2017's teen phenom The Hate U Give, which lived up to the enormous hype. It's our next book club read, and while I usually wait until after our discussion, I couldn't resist writing it up this week. (Fellow book clubbers, you can still read this newsletter, as I have other thoughts too, but feel free to skip down.)

I also read a collection of witty and satirical short stories called Hits & Misses from an SNL writing alum; I hadn't heard of it until Jane noticed it at the library, and I was pleasantly surprised.

Let's get right to it.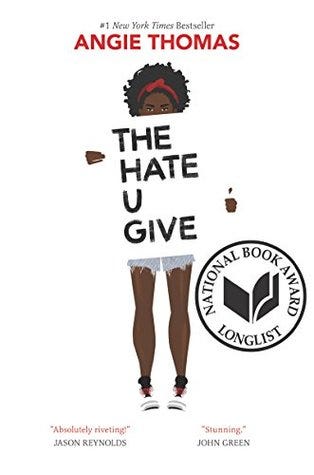 Published in 2017, The Hate U Give (444 pages) was written in response to the rash of police shootings that had been gaining public attention since Michael Brown was shot and killed in Ferguson, Missouri in August 2014. While the genesis of the story traces back to a 2009 shooting, the media attention of the mid-2010s galvanized Thomas's writing and inspired her to get the novel out into the world. It was a success even before publishing; her book went to auction and was bid on by 14 publishing companies.

Needless to say, it was a major success, winning all kinds of awards and staying #1 on the NY Times Young Adult bestseller list for almost a year. There hadn't been a YA craze like this since The Hunger Games or maybe John Green's The Fault In Our Stars. And like those, The Hate U Give is very good.

Okay, enough backstory. For those who don't know, here's a very brief plot synopsis: 16-year-old Starr Carter lives in the mostly poor and mostly black neighborhood of Garden Heights, but attends Williamson Prep, a mostly affluent and mostly white private school. One night after a party she's being driven home by an old friend named Khalil; Starr had mostly fallen out of touch of him since going to Williamson. They're pulled over by a white cop, Khalil is asked to step out of the vehicle, and ultimately is shot and killed. (This happens pretty much right away; I promise I'm not giving anything away.) The rest of the book is Starr's life after the shooting; as resident of gang-infested Garden Heights, as witness to the shooting, as student and friend in a mostly white school. As expected, her whole life is flipped upside by what happened to Khalil. I won't give away the ending, but the last few pages are some of the most moving and powerful I've read in a novel in a long time. I really want to say more than that, but I won't.

What's most interesting to me about this novel is its utter realism. And I think that's the point. Angie Thomas wanted to give people a glimpse into the life of a 16-year-old black girl who witnessed something horrible. As a 31-year-old white man who lives in the burbs, there are few vehicles to lend me that perspective. The Hate U Give was that perfect vehicle. Thomas writes in such a way that you really feel like you're there in Garden Heights and at Williamson trying to figure out who you really are. The novel is as much about identity as anything else.

This is a book that feels like essential early 21st century reading. And I really don't mean to over-hype it; the book has flaws, it just also provides a truly necessary walk-a-mile-in-their-shoes perspective that isn't often found in the publishing world.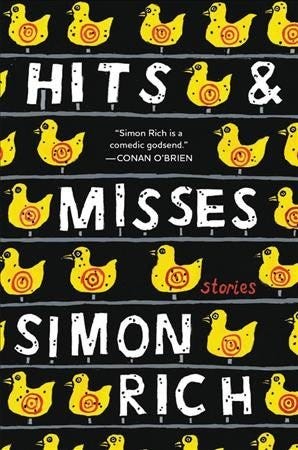 Simon Rich was born into a family of writers, which makes his first story in this collection make that much more sense. Titled "The Baby," it's about a middle-of-the-road writer who finds out during his wife's pregnancy that his unborn son is also in fact a writer. The kid is holding a pen and a moleskin, and a 4-D ultrasound can even make out some of his brilliant ideas. Agents start contacting dad about the fetus. It's ridiculous, sure, but also makes some witty points about jealousy and familial legacies.

And that story sets the stage for all the rest. They are often poignant mixtures of satire, wit, absurdity, and wisdom. Some of them are purely jokes — a story told from the point of view of Paul Revere's horse, a doctor on April Fool's Day — but many offer some sort of nugget of insight that's worth chewing on, particularly for those in creative pursuits.

It's clear that many of these stories are drawing on his experiences as comedy writer and screenwriter: One story features a guy working at a BuzzFeed-like viral content factor; he encounters younger versions of himself who are asking why he's working for the man instead of chasing his dreams. Another is about a middle-aged woman who's been forced to give up playing and writing music; she ends up in rehab because her daughter catches her playing piano. One that was especially clever was a GQ profile of Adolf Hitler; it was a lovely dig at formulaic magazine features. As a writer myself, I especially appreciated those few stories especially.

I will say that I don't think everyone will like them. If you can't get over the absurdity, it'll be rough going. In the final story, for instance, a guy makes a movie with an actual ghost. But, Hits & Misses is an incredibly quick read, and was worth the couple hours it took me to plow through these 18 short stories.
---

That's it for me this week. What have you been reading? I'd love to hear.

-Jeremy