Discover more from Read More Books
Book reviews, author interviews, bookish news and lists, and more — delivered every Tuesday and Friday morning.
Over 7,000 subscribers
What I'm Reading (No. 68): the challenges of writing about 9/11
This week I started Moby Dick (for the second time) and finished a superb new book about 9/11. I don't remember when I first attempted Moby Dick, but my copy had a bookmark at about 200 pages in. I remember it being excellent, and I have no idea why I stopped. Picked it back up again from the beginning and it's marvelous. I'm hoping to finish it by next week's newsletter.

The focus of this week's edition, though, is Mitchell Zuckoff's new book that monopolized my attention for the last handful of days.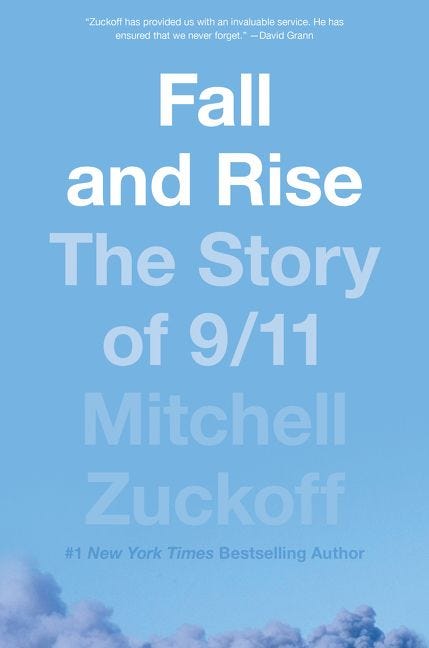 Published: 2019
Pages: 464 (plus another 100 pages or so, which includes a list of victims as well as other appendices)

As we approach the 20th anniversary of 9/11, the subject remains incredibly hard to write about. The complexity and confusion and scope of the attacks does not lend itself very well to a compact, single-volume narrative. There are books about Al-Qaeda and the lead-up to 9/11 (the unmatched and extraordinary The Looming Tower), books about the ensuing hunt for bin Laden (Manhunt), books about individual stories (The Red Bandanna) and single incidents (Flight 93), but very few that have tried to get the whole picture between two covers.

Mitchell Zuckoff's new work does so admirably. Fall and Rise functions as a memorial in book form to both those who lost their lives and those who heroically saved or comforted others.

I have so many thoughts, and am having a really hard time organizing them, to be fully honest. I couldn't stop reading this book once I started, and I can't stop thinking about it now that I've finished.

I have a couple primary reactions and one story, though, that I'll pass along:

First, Zuckoff masterfully shows just how ordinary the victims of 9/11 were. These weren't soldiers in a war; these were people heading out on vacations, people on their first day of a new job, people commuting into a part of NYC they wouldn't normally be in for the sake of a business meeting. The sheer innocence of the 2,977 victims (not including the hijackers) is overwhelmingly tragic, and makes the stories in Fall and Rise that much more difficult to read.

The other part of the narrative that really struck me was the utter confusion of every facet of 9/11. From air traffic controllers who couldn't fathom a multiple hijacking scenario, to people on the upper floors of the towers who died never knowing what had happened (many thought it was a bomb or a gas leak explosion), to citizens of Shanksville, PA who suddenly saw a large aircraft flying upside down followed by a loud crash and a smoke plume, to military leaders who had no idea if the hijackings ended at four aircraft.

The total evacuation of lower Manhattan and the grounding of every single US flight—for the first and only time ever—were testaments to this confusion.

One story in particular stood out from Fall and Rise has really stayed with me: 40-year-old Jennieann Maffeo was waiting for a bus when the North Tower was struck 93 floors above her. Without any warning other than perhaps a few seconds of confusion at the sound of an explosion, Jennieann's whole body was ablaze. A fireball of jet fuel had rained down and struck her. Though she had no idea what had just happened and why she was basically melting, she remained conscious and staggered around, ultimately being helped by hero Ron Clifford, who helped her find medical assistance. (In an unbelievably sad twist, Ron's sister and niece were in fact on that plane that struck the North Tower, though of course he didn't know it at the time.) Jennieann's body was 90% covered in 3rd degree burns, and while she held on for 41 days, she ultimately passed away from her injuries.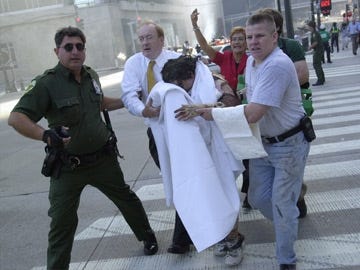 I know that's not a pleasant story. But it's an important one, ya know? The picture above (Ron in the yellow tie; Jennieann in the white sheet) displays both the unconscionable evils of terrorism and the heroic spirit that lives in all of us.

The sheer number of people impacted makes it hard to remember individual faces and stories. Zuckoff tells a number of those stories, while also capturing the larger context, and it's not overwhelming. Sometimes accounts like these can feel overloaded with names and viewpoints, but Zuckoff gives each such compassion that they remain very memorable.

Fall and Rise is a visceral, necessary, remarkable read that ultimately shows the best of humanity and the best of the American spirit. Gut-wrenching, yes, but should absolutely be required reading. I'm saving this one for my kids to read one day to understand what happened when the world changed on a sunny morning in September of 2001.

P.S. Zuckoff has written some other excellent books as well, including 13 Hours and Lost in Shangri-La.

---

That's all for me this week. Thanks for your time and inbox space.

-Jeremy