Discover more from Read More Books
Book reviews, author interviews, bookish news and lists, and more — delivered every Tuesday and Friday morning.
Over 7,000 subscribers
What I'm Reading (No. 71): Rough Riders + Late Bloomers
This week I finished a new history of the Rough Riders and the Spanish-American War that they fought in. It was especially interesting to me for a reason I'll get to below. And a few weeks ago I finished a new business-y book about late bloomers — why society doesn't value them, and particularly, the benefits that come with being a late bloomer.

Let's do it.


There's always more to be written about Theodore Roosevelt. And this one was especially fun for me to read; my great-great-grandfather, Fred Bugbee, was a Rough Rider with Roosevelt and was in fact hit by a glancing shot to the head from a Spanish rifle.

It bled a lot, but wasn't enough for Bugbee to seek medical attention. Roosevelt ordered him to the rear, to which Bugbee responded: "Go to hell." That's my heritage. Amazing.

So of course this was a book that I'd be drawn to. Though Bugbee was not mentioned in the book, The Crowded Hour provided a superb look at the realities of the Rough Riders — that ragtag group of volunteer soldiers who fought in the Spanish-American War.

It goes well beyond just that regiment's story though. Clay lays out the context of the war: how it came to be, why America got involved, and perhaps most interestingly, how it set the stage for future US involvement in international conflicts. Before this war, the US had not fought on another people's behalf; after this war, our soldiers did so in WWI, WWII, Korea, Vietnam, the Middle East, and numerous other minor conflicts.

The writing was a hair slow, to be honest, but I was fully gripped by both the broader scope of the conflict and the day-to-day experiences of Teddy Roosevelt's now-famous band of fighters. The story reminded me of Candace Millard's Hero of the Empire, which was about Winston Churchill's wartime experience as a young man. This follows a similar trajectory, showing how those few weeks in Cuba had an outsized impact on the rest of Roosevelt's life and philosophy.

Ultimately, I'm incredibly glad that I was able to learn about my great-great-grandfather's real-life experience in Cuba.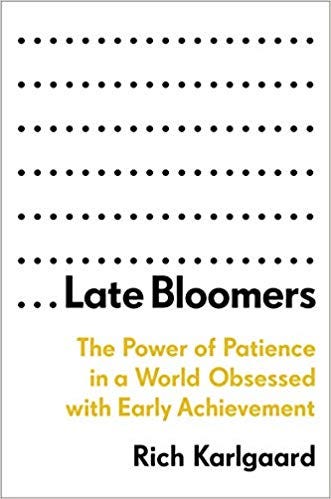 The subtitle says a lot about this book. Our world just loves stories about wunderkinds. Zuckerberg is the poster child, but this isn't a new phenomenon. Bill Gates was 20 when he founded Microsoft. Thomas Edison was just 21 when he dreamed up his first invention. Et cetera, et cetera.

Late bloomers, on the other hand, aren't often revered. Especially in modern world, where early success is supposedly easier than ever to come by. Start a website, build an app, you know the drill.

That story is just not all that common though. There are far more young failures than young instant successes. But of course those stories don't play as well.

In Late Bloomers, Karlgaard dispels the myths and lays out the realties of success. Far more often than not, people find their callings and greatest successes later on — in their 30, 40s, 50s, and even beyond. And there are plenty of benefits that come from "blooming" a little later. They don't conform as much, they obviously have more beneficial life experiences under their belt (seems like Zuck could've used some of that), and they're generally more open to a diverse range of thinking, to name just a few.

Ray Kroc started McDonald's at 52. Julia Child was 49 when her first cookbook was published. Politicians of all stripes, from Winston Churchill to Ronald Reagan and plenty more, only found success in their 60s after toiling for decades in the lower rungs.

Success is not exclusively the realm of youth. Don't disregard the people in your life who maybe haven't "launched" yet. And if you've been labeled a late bloomer, don't write yourself off. The best is yet to come.

---

That's all for me this week. I'd love to hear what you're reading. As always, thank you for the time and inbox space.

-Jeremy