Discover more from Read More Books
Book reviews, author interviews, bookish news and lists, and more — delivered every Tuesday and Friday morning.
Over 7,000 subscribers
What I'm Reading (No. 89): two very different coming-of-age stories
As so often happens in my reading, the books I finished this week share a theme. This time: teenagers coming of age and figuring the world out, along with their own place in it. These two figures — Ernest Hemingway and Trevor Noah — are about as different as could be. I finished Noah's very funny stories, collected in Born a Crime, about his South African childhood. The other book was an interesting look at Hemingway's at age 18. Much of that year was spent in Kansas City, but then ended with a war injury.

While 100 years apart, and occupying very different places in American culture, both Noah and Hemingway came to find the world isn't as kind or romantic as they perhaps expected.

Let's dig into each.

---
The title of the book, Born a Crime, speaks to one of the foundations of Trevor's growing up in Apartheid and post-Apartheid South Africa: his mother is black and his father is white, which was breaking the law in the 1980s. As a colored boy (as opposed to black or white), Trevor didn't fit in with any group. So he made himself a chameleon, learning a number of languages and dialects so that he could communicate with just about anyone in their own language.

With that gift he was able to fit in somewhat at least, while maintaining a role as a troublemaker and hustler of illegally copied CDs.

Structurally, the book is far more a collected set of stories than a memoir. It's important to remember that while reading, as the timeline jumps around a bit and we don't get into the entirety of Noah's childhood. There's some self-reflection, sure, but the point seems to be more to educate people about what it was like growing up in Apartheid (and afterwards), while sharing some ridiculously funny stories along the way. He also paints an incredibly memorable and moving portrait of his mother, who ultimately ends up being the hero of the book.

Noah's writing is equal parts sincere, intelligent, and genuinely funny. (I laughed out loud a few times, which is rare with a book.) That's a really hard mix to find, and Trevor nails it. I only wish there was more to it — the stories end before Trevor has really made his mark. I want to know how he gets from South African DJ to host of The Daily Show. Perhaps, we can hope, that's coming in a later book.

---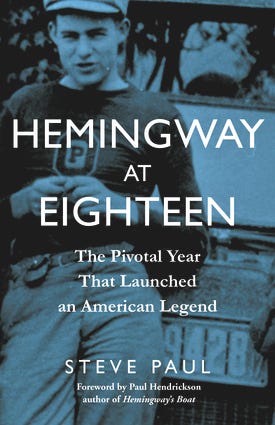 I've been spending time working at our local library lately, occupying one of the cozy second-floor study rooms, which allows me to gaze out the floor-to-ceiling windows over downtown Arvada. Good view, good internet — it's been lovely. Plus, when I take 5-minute breaks, I can peruse the stacks rather than dink around on my phone. On one of those breaks last week, I found Hemingway at Eighteen.

It's a short book, and a little bit studious in tone, which is surprising given that author Steve Paul was a journalist before retiring. No matter — Paul gives fans of Papa Hem an insightful look into what was inarguably one of the more important single years of Ernest's life.

What really stood out from this particular book, to me at least, was just how Midwestern Hemingway was. I sort of knew that, but not the reality of it. He was born in Chicago, spent nearly every summer of his youth at a family property in Michigan's Upper Peninsula, and then embarked on his very first job, as a cub reporter, to the Kansas City Star. It's so interesting to me that a number of Lost Generation writers were Midwestern — Hemingway, F. Scott Fitzgerald, T.S. Eliot, and more.

Anyways . . . while at the Star, Hemingway got a reporter's education in writing. It's amazing how clearly the newspaper's famed style guide and Ernest's prose line up. What an influence that very first job of his had!

After just 6 months at the newspaper, though, the call of WWI was too strong to resist. Hemingway always wanted to be part of the action. Though he failed an Army physical, he was able to sign on as a volunteer ambulance driver. It was along a river in Italy, just a couple weeks shy of turning 19, that a mortar shell exploded just 3 feet from Hemingway, killing an Italian soldier and leaving Ernest with over 200 pieces of shrapnel in his legs. The injuries left him recovering in the hospital for months, which led to his first great love, which led to the story found in A Farewell to Arms.

Truly, the story of Hemingway's youth led directly to the story of the rest of his life. Again, the writing itself as good — not great — but the subject matter intrigued me to no end.
---
A Hemingway Reading List
A small of books that I'm excited to read:
---

Alrighty, that's all for me this week folks. Let me know what you're reading, and thank you as always for the time and inbox space.

-Jeremy