Discover more from Read More Books
Book reviews, author interviews, bookish news and lists, and more — delivered every Tuesday and Friday morning.
Over 7,000 subscribers
What I'm Reading (No. 9): sharing my love for an all-time favorite [and a giveaway!]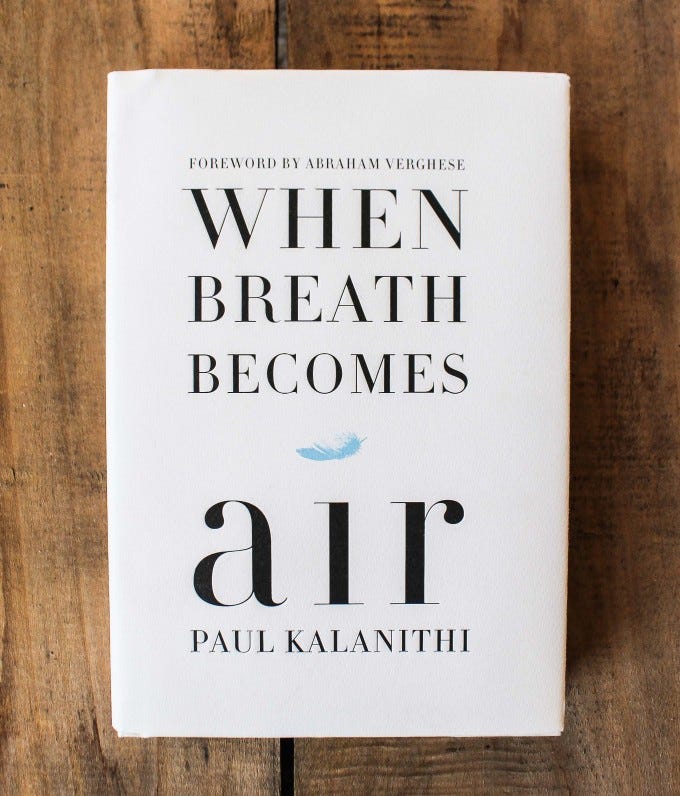 When you have a child, especially the first time, it's hard not to feel the weight of the occasion. You've just brought another life into the world. It's easy to find yourself asking the big questions. What are we here for? What is it that gives live meaning?

Those are the questions that author Paul Kalanithi grapples with in When Breath Becomes Air (231 pgs, 2016), though in different circumstances: he's staring down death in the form of lung cancer. I don't remember how I first discovered the book, but it was roughly 2.5 years ago, right around when our son Graham was born. I didn't actually know anything about it before digging in, and learned right away in the foreword that Paul actually died while writing his manuscript. I read it on my phone in the wee nighttime hours, rocking Graham to sleep, and I realized right away that the author's questions were the very same that I was naturally asking in the midst of this big life transition.

Kalanithi has a fascinating story, which he spends the first half of the book telling. He grew up with an intense love of literature, and intended on one day being a writer/professor. He believed that "literature not only illuminated another's experience, it provided, I believed, the richest material for moral reflection" and also that it "provided a rich account of human meaning."

But then he grows interested in how the brain comes to even inquire about those big life questions in the first place, and he studies neuroscience in order "to understand how the brain could give rise to an organism capable of finding meaning in the world." That leads him to becoming a rising star in the field and he eventually becomes a neurosurgeon.

The second half of the book chronicles Paul's cancer diagnosis, recovery, relapse, and ultimately, his death at age 37. It's here, obviously, that the book becomes more reflective and powerful. He brings an indelibly unique perspective as both brilliant doctor and then patient. He had counseled others in their terminal illnesses, and then had to wrestle with his own. In the midst of that illness, he came to find no less than the meaning of life — or at least his closest approximation (he writes that "the task is impossible . . . if a correct answer is possible, verification certainly is impossible").

And what does he find?
"Meaning, while a slippery concept, seemed inextricable from human relationships and moral values."
It's about people, loving those people, and doing what you can to make other people's lives better. It's a conclusion that's been reached time and again (from the Bible all the way to modern research studies), but can never be repeated enough. We need constant reminding of it. Science, medicine, and empirical data are indeed important, but "cannot grasp the most central aspects of human life: hope, fear, love, hate, beauty, envy, honor, weakness, striving, suffering, virtue."

What really got me as I was reading this book a couple years ago with Graham in my arms was when Paul wrote about the decision, along with his wife Lucy, to have a child (albeit when they thought he was in recovery and could live another 5-10 years, if not longer):
"If human relationality formed the bedrock of meaning, it seemed to us that rearing children added another dimension to that meaning."
I read that line as my own, tiny "added dimension of meaning" was lying in my arms. You can imagine the emotion that ran through me. The final lines of the book — in the form of a dying exhortation to his infant daughter — are even more powerful and brought on the waterworks like no other book ever had before (or has since). I'll save that part for you to read.

Paul wasn't quite able to finish writing the book before he died, but that fact isn't obvious at all until you read Lucy's nearly equally magnificent epilogue. When Breath Becomes Air reads as a complete thesis on the meaning of life, and a damn convincing one. And as you can at least partially see from the quotes I've included, it's so beautifully written as to stand among the finest memoirs on life, death, and meaning that's ever been produced.

So, when Willa Rae Anderberg was born about two weeks ago, I decided to take up the book yet again, and read it on my phone while rocking her in the middle of the night. It was just as powerful, just as emotional, and just as lyrical as the first time. It's without a doubt one of the best books I've ever read, and I've convinced myself that I should now own a hard copy, and read it again and again as a reminder of what life is all about, and that death can come at anytime for even the healthiest of us. Let that fact not scare you (Paul would not want that), but rather inspire you to live each day according to what gives you the most fulfillment, joy, and love. A final quote, presented without the need for additional commentary:
"Even if I'm dying, until I actually die, I am still living."
P.S. There's a fascinating and lovely addendum to the story: Lucy Kalanithi recently found love again with John Duberstein, the widow of Nina Riggs, who died at age 39 and wrote last year's acclaimed memoir The Bright Hour. The headline — "Two dying memoirists wrote bestsellers about their final days. Then their spouses fell in love." — pretty much wrote itself. It's a remarkably touching article to read, and of course The Bright Hour is on my reading list (though I won't be digging in right away; you can only read so many memoirs about young, dying parents when you have small children of your own).

Giveaway
As promised last week, I have a book to give to a lucky reader! The winner can have their pick of either Dave Eggers' 2016 novel Heroes of the Frontier or Jordan Peterson's new 12 Rules for Life. Both are hardcovers, and both are books I enjoyed. To enter, click the link below. You'll have to answer a quick question about your favorite read this year so far, and you can gain additional entries by sharing via email or social media. I'll pick a random winner next Thursday.

What I'm Reading: Giveaway #1