Discover more from Read More Books
Book reviews, author interviews, bookish news and lists, and more — delivered every Tuesday and Friday morning.
Over 7,000 subscribers
What I'm Reading (No. 104): Varina Davis + giving up
My reading pace to start the year is admittedly a bit slow. I picked up Charles Frazier's latest novel and tore through it, but then had a couple swings and misses.
I've started each of the last few years with Dickens, and while I enjoyed the first hundred or so pages of Nicholas Nickleby, it just wasn't drawing me in.
Then I decided to go all in on my project of reading presidential biographies in order to finish by Election Day 2020; while I've been reading them mostly in order, I figured I'd pick up John Farrell's long and well-reviewed Richard Nixon: The Life since our book club is reading All the President's Men. It's really well-written, but for some reason, I wasn't very motivated to keep reading. I put a bookmark in it and stashed it back on the shelf, foregoing my Election 2020 reading plans as well.
I had a great reading year in 2019, which I think was at least partially because I finally learned to embrace giving up on books that I wasn't enjoying — those that I was struggling to find the desire to pick up.
Interestingly, it's not always bad books that I put down. I'm fully aware that Nickleby and Nixon are both books that I'll happily pick up sometime again and most likely really enjoy. But for whatever reason, January 2020 was not the time for them in my reading life.
This year, I'm going to lean even more into reading at whim. There are a few books that have been gnawing at me from my bookshelf that I'm quite excited to get into; while I'm all about tradition and reading plans, it actually felt nice to drop Dickens and to drop the self-imposed and hurried pace of my reading project. I'll still read bios of all the presidents, but I'm giving myself a bit more time so that I don't get burned out; I want to be excited about all that reading!
While I obviously make a lot of recommendations in this newsletter, if you're not feeling it with a book that I've said is life-changing, don't worry about it. Different strokes for different folks. Drop it like it's hot and move on to something you're excited about reading.
For me, right now, that's the North and South trilogy by John Jakes. Among the bestselling books of the 80s (the set sold tens of millions of copies), it's a Civil War-era historical fiction about the friendship between a Northern iron baron and a Southern plantation man — George and Orry met in the 1840s at West Point and became fast friends, but the Civil War looms on the horizon (I'm a few hundred pages in). Each book is over 800 pages, so it's going to take me a while, but I'm enthralled so far.
Okay, all that said, I did finish a wonderful book to start the year:
---
Varina
by Charles Frazier (2018, 345 pages)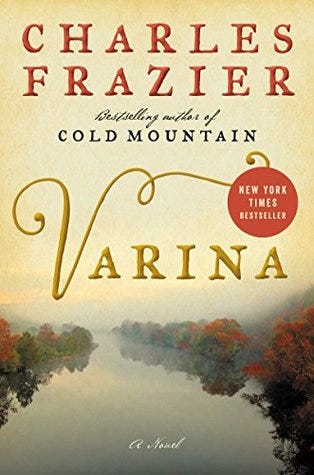 "It is possible to love someone and still want to throw down every remnant of the order they lived by."
Charles Frazier is best known for his 1997 mega-hit Cold Mountain, which is another historical fiction set in the midst of the Civil War. (See a trend? Pretty soon here I'll fully embrace my somewhat embarrassing love of historical fiction.) While that book is on my shelf, I happened to snag a free copy of Varina, and started it on a whim the week after Christmas. I was immediately and somewhat surprisingly pulled right in by both Frazier's incredible prose and the fascinating story itself.
Varina Davis, forever in the history books as the first and only First Lady of the Confederate States of America, was a fascinating character. She married the much older Jefferson Davis as a young woman, gave birth to a number of children (all but one of whom died before her), was captured after the Civil War, and recovered to live and work in New York until her death 1906.
Frazier obviously has a strong grasp of Varina's life story and he invented a wonderful narrative structure to tell it in a way that provided a walk in her shoes while not letting her off the hook for her sins: "Those were times that required choosing a side—and then, sooner or later, history asks, which side were you on?"
Going back and forth in time from before the war to after the war to the tumultuous, chaotic reality of life during the war, Frazier makes it hard to hate Varina. And maybe that's his point. As my pastor talked about from the pulpit this last weekend, once you get to know someone's story, it's nearly impossible to not feel some sense of sympathy and relation to your own life and experience. What does it mean to be born in the wrong place at the wrong time? Would you be able to easily dismiss the entirety of how you were raised and where you come from? There just aren't easy answers, even if there are right answers.
I'll end with this wonderful take from the narrator about Jeff Davis (whom I did not feel any sympathy towards):
"He did as most politicians do—except more so—corrupt our language and symbols of freedom, pervert our heroes. Because, like so many of them, he held no beloved idea or philosophy as tightly as his money purse. Take a king or a president or anybody. Put a heavy sack of gold in one hand and a feather-light declaration about freedom in the other. And then an outlaw sticks a pistol in his face and says give me one or the other. Every time—ten out of ten—he'll hug the sack and throw away the ideals. Because the sack's what's behind the ideals, like the foundation under a building. And that's how freedom and chains and a whipping post can live alongside each other comfortably."
Varina was a great story with superb writing. I can't wait to read more of Frazier's slim body of work.
---
That's all for me this week. Thank you for the time and inbox space, and may you feel the freedom to give up on more books!
-Jeremy