Discover more from Read More Books
Book reviews, author interviews, bookish news and lists, and more — delivered every Tuesday and Friday morning.
Over 7,000 subscribers
What I'm Reading (No. 105): Fighting Disease; Fighting Each Other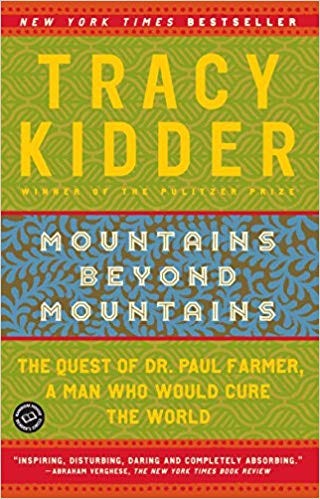 "People call me a saint and I think, I have to work harder. Because a saint would be a great thing to be." —Dr. Paul Farmer
More years than not, my mother-in-law has gifted me books for Christmas or my birthday that I've already read. But, she keeps on trying, and this last Christmas she nailed it with Tracy Kidder's marvelous story of Dr. Paul Farmer.
While Farmer's backstory is somewhat covered, Kidder really focuses on the doctor's lifelong quest to help the poor — what he calls his "O for the P," or "preferential option for the poor" (taking a nod from liberation theology, even though he's not much of a religious man).
The setting is mostly Haiti, where Farmer's non-profit has built a hospital complex that treats TB, AIDs, malnourishment, and more. He does this for decades before receiving recognition from the wider medical community for his strides in treating TB. Most inspiringly, Farmer is well-known for bucking against the medical establishment's pragmatism when it comes to treating illness and diseases in poor nations. Kidder writes:
"Strictly speaking, all resources everywhere were limited, Farmer would say in speeches. Then he'd add, 'But they're less limited now than ever before in human history.' That is, medicine now had the tools for stopping many plagues, and no one could say there wasn't enough money in the world to pay for them."
Dr. Farmer rails not only against uncaring governments but also WLs ("white liberals") who just want to throw cash at the problem, other doctors and scientists who focus on the bottom line, and just about anyone else who gets in the way of his treating every patient who comes his way.
This book is about so many things — a man who found his true calling, the global medical community (industry, really), the interconnectedness of disease and poverty. It's both inspiring and frustrating, meaningfully spiritual and intensely scientific, compassionate (towards the poor) and condemning (towards everyone else).
Mountains Beyond Mountains is a great read that I think just about everyone would enjoy.
---
A Medical Reading List
A handful of books about medicine that I've really enjoyed.
---
North and South
by John Jakes (1982, 812 pages)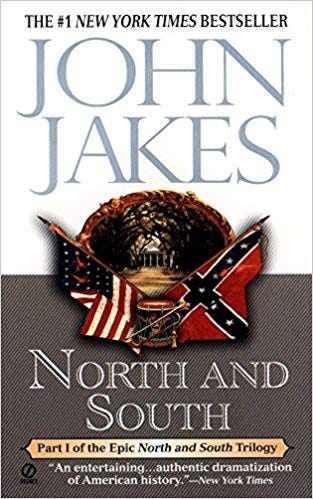 "Could the friendship of men from different regions, a camaraderie born in shared hardships, endure such terrible pressures?"
I bought this trilogy on a whim when it was on a great Kindle deal. It's normally $30 for all three books but I got it for like $2. I'd read a little bit about it, but honestly wasn't expecting much. I mean, it's Civil War historical fiction from the 80s. Has to be high on Lost Cause sentiment, right?
Well, I was immediately drawn in, vastly impressed by the writing and viewpoint, and pretty much didn't stop until 800+ pages later when it ended — leading right into book two, of course. (I'm holding out on continuing for now . . . )
It starts in 1842 with teenaged Orry Main and George Hazard meeting at West Point — then the nation's nascent sole military academy. The Mains run a rice plantation in South Carolina — though of course it's really the slaves who do all the work. The Hazards have made a fortune Pennsylvania in iron manufacturing. At this time, the nation is certainly polarized between North and South, but it's still easy to make friends and there are still common enemies — namely Mexico and Santa Anna.
Main and Hazard become best friends and eventually serve together in Mexico, along with Ulysses Grant, Robert Lee, and many others who will later makes name for themselves in a different conflict.
After that war, it's a slow burn to the 1860s, with Main and Hazard aging and having to work harder at keeping their friendship alive amidst growing tensions — both personally and regionally.
As a reader, I really liked both characters, and Jakes gives the looming conflict the nuance and complexity it deserves, without descending into sentimentalism. It's not just north vs. south — it's truly friend against friend, classmate against classmate, even brother against brother.
"glory" is nothing but a layer of gilt desperately applied to conceal the rot beneath
I tore through these 800 pages and have heard from others who enjoyed the trilogy as well. I'm holding off on the next title for now; I may save it for a vacation in May that has hours upon hours of travel time. We'll see if I can wait that long though. If you're into historical fiction, you'll love Jakes. (I was very glad to find out he has multiple multi-volume series — yesss!)
"These foul times. We might have prevented all this if we'd responded with the best that's in us. Instead, we seem to have responded with the worst. I wonder if we're capable of anything else."
---
That's it for me this week. Thank you for your time and inbox space; I really appreciate it.
-Jeremy