Discover more from Read More Books
Book reviews, author interviews, bookish news and lists, and more — delivered every Tuesday and Friday morning.
Over 7,000 subscribers
What I'm Reading (No. 111): Death Row + Clive Cussler
I'm knee-deep into Ron Chernow's Grant, which has been somewhat monopolizing my reading here in February. It's an incredible book, but loooong.
That said, I did finish a great book this week — I had to, really. The hold finally came in from the library after a long wait, and since Jane wanted to read it too, I had to blast through. Mission accomplished.
I also eulogize prolific author Clive Cussler, who passed away on Monday after a long and fruitful career as both writer and adventurer. Many who know me well know that I love his books.
Let's do it.
---
Just Mercy
by Bryan Stevenson (2014, 314 pages)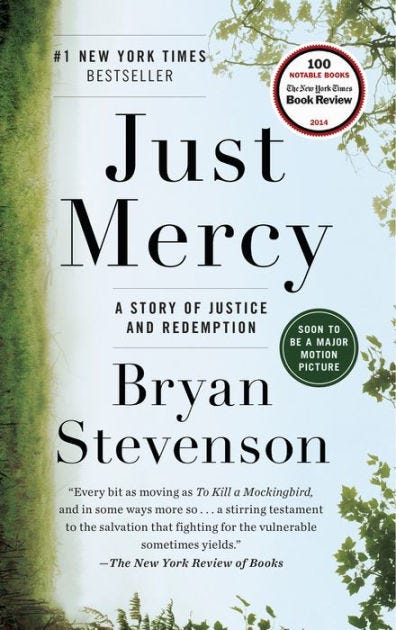 With this story turning into a movie late last year, it seemed like the perfect time to give the original a read.
While in law school at Harvard, Stevenson spent some time interning with the Southern Center for Human Rights. He was so distraught by what was happening in prisons across the south that he moved to Alabama to start the Equal Justice Initiative (EJI) — a non-profit dedicated to helping inmates in a variety of categories: lifers with mental illnesses, those sentenced as children (early teens), those on Death Row with less-than-satisfactory evidence, and others with special circumstances.
Just Mercy documents Bryan's work, particularly with the case of Walter McMillian, a black man who was wrongfully imprisoned and sentenced to death for murder in Monroeville, AL (which is ironically Harper Lee's hometown). Other chapters, however, document similar cases EJI has worked on and important issues in the realm of incarceration in America.
It's a powerful book. There's no doubt. The cases and judges and public defenders and police officers we meet are infuriating. It feels unreal, actually, that some of these people ended up in prison at all; I had the thought that if this book was a modern novel, I wouldn't have believed the plot lines.
And yet, it's hopeful. Bryan is angry and sad, but keeps on. He embodies the Good Fight, but never in a self-serving way (which would have ruined the book). It's obvious that the point — what the book is really about — is to share with the world the injustices of America's prison system. The point is to give the average reader some proximity to the men and women behind bars. As he says right away in the introduction:
"Proximity to the condemned and incarcerated made the question of each person's humanity more urgent and meaningful, including my own."  
A mix of The New Jim Crow (in its depressing depiction of the modern state of mass incarceration) and Mountains Beyond Mountains (in its surprising hopefulness in the midst of that despair), Just Mercy is a superb accounting of a world that's utterly different from my own. It's steeped in goodness and perseverance, and it's eye-opening, to say the least.
---
A Prison Reading List
---
RIP Clive Cussler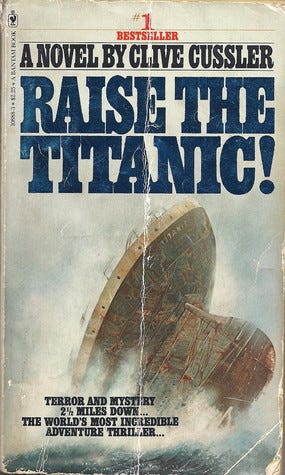 I was stunned this week to hear of the passing of one of my favorite authors. Even though he was 88, it felt like Clive Cussler would just keep writing books. His marketing emails that promoted each new title landed in my inbox with surprising regularity.
When I was in high school, my dad gave me an old, tattered copy of Raise the Titanic, which was published in 1976, almost a decade before the ship was actually found. The premise is absurd: hero Dirk Pitt, part of a (fictional) nautical government agency, is tasked with finding out the mystery and resting place of the unsinkable ship, then raising it out of the sea to get to its secret cargo load. Seemed ridiculous, so I put off reading it for a while.
Then, for whatever unmemorable reason, I gave it a shot in college. From the first page, I couldn't put it down. Yes, the plot line was a bit ridiculous, but it was pure entertainment. I would soon find out that was Cussler's MO. No matter what kind of crazy, unbelievable story he'd concoct, you knew it would be dang fun reading.
Cussler started writing nautical- and environmentally-themed adventures in the early '70s, and never stopped. Eventually, he started doing a James Patterson-type thing where he'd craft an outline and farm out the actual writing. Those stories weren't as good, inevitably, but still worth reading (if you've read all the originals). Cussler has nearly 80 titles with his name on the cover; quite a remarkable achievement.
While Dirk Pitt is his most enduring and memorable character, there were a handful of other entertaining series too: NUMA files, Isaac Bell Adventures, The Oregon Files. I've not read all of his books, but it's probably close to a few dozen.
Beyond penning best-selling novels, Cussler also founded a real organization that's dedicated to finding lost shipwrecks. He came to embody his fictional hero and discovered a number of important wrecks. One final note: Cussler was quite famously a vintage automobile collector; a substantial part of that collection is in a museum here in Arvada, CO, just a few miles from my house. I never made the time to go. Now I will.
A few favorites, if you've not encountered the wonders of Cussler:
If you're at all into adventure novels, you've probably read Cussler, so I don't need to exhort you to do so. But maybe re-read your favorite; now, excuse me while I dig up my copy of Raise the Titanic.
---
That's all for me this week. Thanks so much for reading and writing to me; I always enjoy hearing from you.
-Jeremy