Discover more from Read More Books
Book reviews, author interviews, bookish news and lists, and more — delivered every Tuesday and Friday morning.
Over 7,000 subscribers
What I'm Reading (No. 117): famous short-ish stories
In a time of anxiety it can be hard to stay focused on a long and intricately-plotted novel. I've heard from plenty of folks who have said that short stories have been easier to digest and I certainly agree with the sentiment. I've read a few short stories in recent weeks, and even my reading of longer works has been marked by patterns of shorter chunks of reading; I'm in the midst of a handful of books that I'm reading a chapter or two of each day. That's just sort of how my attention span has naturally played out.
So this week I'm sharing a couple of those great short stories I've read (I suppose they could be called novellas), as well as a list of Russia-themed books I've recently put on my reading list.
To see even more of my short story recommendations, check out this list I put together back in What I'm Reading No. 90.
Let's get to it.
---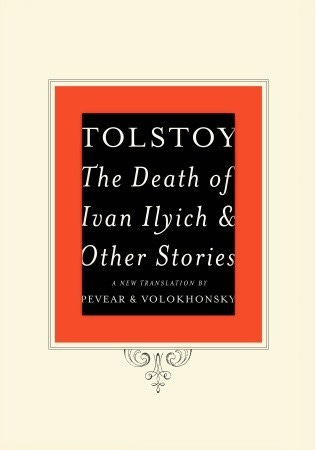 "The main thing was that Ivan Ilyich had his work. The whole interest of life was concentrated for him in the world of his work. And this interest absorbed him."
It can seem morose to read a famed story about death in the midst of a time of great death in our world. But when it's done well, this type of tale actually serves to impart the greatest sort of lesson literature can offer: how to live well.
And in Tolstoy's "The Death of Ivan Ilyich," I encountered what's often considered one of the greatest short stories of all time.
My relationship with Tolstoy thus far in my reading life has been fruitful, if not a bit rocky. I tore through the first half of Anna Karenina a couple years back, only to be stalled when my baby daughter stopped sleeping for a bit. I never got back into it, and it's been tormenting me from the bookshelf ever since.
Since that great novel plays such a big role in A Gentleman in Moscow, I was inspired again to read Tolstoy, though diving into Anna again was a bit intimidating. So I turned to the short stories, starting with his most famous.
There's no real lead-in to Ivan's death — we start right away with his former coworkers discussing the lawyer's passing, including, most importantly, how it would impact their own standing in the business.
Eventually, Tolstoy turns the clock back a bit to get us to Ivan's early life and marriage, long illness, and excruciating death at age 45. Honestly, I couldn't always figure out what Tolstoy was trying to say. But, as I've heard from other fans of the story, the bits that do come through clearly are incredibly memorable and powerful.
Tolstoy presents a view of death that isn't romantic in the least bit; it's slow, painful, morally fraught. And yet, towards the end, as everyone seems to experience, Ivan at least begins to come to grips with the crummy life he led. With that, of course, is an acknowledgement about what makes life truly meaningful and fulfilling.
Could anything be more appropriate right now?
"In public opinion I was going uphill, and exactly to that extent life was slipping away from under me."
If the very idea of Tolstoy scares you a bit, take a look at his short stories. This one is pretty easy-reading and comes with valuable and timeless insight into the human condition.
---
A Russian Reading List
Finishing A Gentleman in Moscow gave me a real hankering to read not only a few classics of Russian literature, but the real history of the enigmatic nation too. Here's a few I put on my list. I'd love to hear your recommendations, too.
---
"The Gold-Bug"
by Edgar Allan Poe (1843, 55 pages)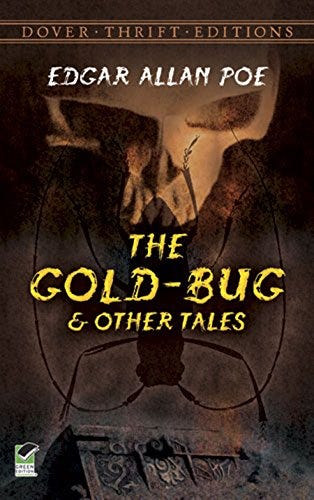 Poe was as wide-ranging in his style and subject as any author I've encountered. He did horror, poetry, detective, and in "The Gold-Bug," a delightful cross between adventure and mystery.
It starts with the odd instance of a man being bitten by a pure gold, scarab-like bug. This fellow, Legrand, has captured the now-dead insect and recruits our unnamed narrator to help solve the mystery of its odd look and hefty weight.
The problem is that Legrand starts to go a little crazy, thinking that the bug is actually the first clue to the uncovering of a buried treasure. The narrator dutifully follows along, though, and starts to realize that Legrand may not be so crazy after all . . .
The beauty of the story is that the reader has no idea where the plot is going until the very end. It's a classic adventure/mystery story in that regard, and Poe paves the way for centuries of plot twists and puzzle solving. We even get a cryptogram and some invisible ink! Honestly, it felt like this story just had to have an influence on the late Clive Cussler.
If you think you know Poe, think again. This story doesn't read like him at all, which just fascinates me for some reason. If you want to have a look at the origins of the classic adventure tale, check out "The Gold-Bug."
---
That's all for me this week. I'd love to hear what you're reading. Thank you, as always, for your time and inbox space.
-Jeremy