Discover more from Read More Books
Book reviews, author interviews, bookish news and lists, and more — delivered every Tuesday and Friday morning.
Over 7,000 subscribers
What I'm Reading (No. 94): frontier life
Life on the frontier, and writing about it, is as American as apple pie, baseball, and the Backstreet Boys.
Though separated by about 100 years, the main characters in the books I finished this week both grew up on, and were indelibly shaped by, life on America's frontier.
Andrew Jackson was born in rural Carolina (right on the edge of North and South), lost multiple family members during the Revolutionary War (and was captured for a brief period himself), and was the first president to be of common stock rather than an aristocrat. After a couple tries, I finally found a biography of him I enjoyed.
Antonia Shimerda, the star of Willa Cather's novel My Antonia, is a Bohemian immigrant whose family has moved the Nebraska prairie. The frontier looms large in everyone's existence.
Let's do it.
---
My Antonia
by Willa Cather (1918, 272 pages)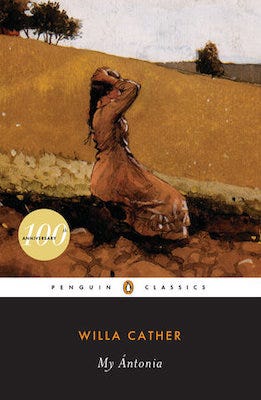 "Ain't it wonderful how much people can mean to each other?"
I first read Willa Cather right before our daughter, Willa, was born. We picked the name sort of randomly — she's not named after Cather or anyone in the family — but it inspired me to finally read the classic Pulitzer-winning author.
I started with O Pioneers! (1913) and loved it. Alexandra Bergson was immediately one of my favorite characters in literature; my own heritage includes plenty of strong, independent, prairie women, so it was easy to picture my past generations in her place.
That book started Cather's Prairie Trilogy, though I didn't go right to the second book, The Song of the Lark (1915), which generally has the weakest reviews of the bunch. My Antonia is probably Cather's most enduring work, so it's what I picked up next.
The structure is really interesting and sort of drew me in on its own; narrator Jim Burden has written down his memories of the one and only Antonia Shimerda from their years growing up together in rural Nebraska.
The Shimerdas immigrated from Bohemia and are immediately introduced to the cold, brutal realities of life on the frontier. Winters are unforgiving, rattlesnakes dot the prairies, and life is all about putting enough food on the table.
In the midst of that tough life, though, teenaged Jim and Antonia see their frontier as more adventure than hardship. Eventually Jim's family moves to the small town nearby, and things irrevocably change for everyone:
When boys and girls are growing up, life can't stand still, not even in the quietest of country towns; and they have to grow up, whether they will or not. That is what their elders are always forgetting.
Above all, it's a coming-of-age story, following our main characters over the decades. It's about how kids grow up on the prairie, how town life impacts one's identity, how the very nature of years passing by changes things.
I think I enjoyed the plot of O Pioneers! a little better, but Antonia is as memorable a character as they come, and the final 50 pages of the book are as gratifying as it gets.
A great book and a perfect encapsulation of Midwest life in the 19th century.
---
A Midwestern Reading List
In that vein, here are my favorite stories set in the Midwest.
---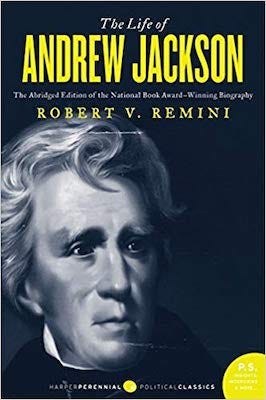 When most people today start exploring the life of Andrew Jackson, it's probably with the Trail of Tears in mind, and his (delayed) expulsion from the $20 bill. But until the last couple decades, he was up there with George Washington and Abraham Lincoln as one of America's most revered presidents.
He has the hero of the War of 1812. He spoke for the common, rural man. He stuck it to the Federalist banking system. He killed a man in a duel for crying out loud!
And, he perpetrated one of the horrors of America's history in displacing tens of thousands of Native Americans from their Southeastern homelands (thousands of whom died during that process).
He was a complex man to say the least, as all of our presidents have been. What sets Jackson apart is that he displayed those complexities to the extreme and in a way that not many presidents have.
I could go on about his life, but instead I'll move onto the book itself, and in general, the experience of reading about Jackson:
I started with Jon Meacham's American Lion. I enjoyed Meacham's bios of Jefferson and George H.W. Bush, so it seemed like a logical starting point. Unfortunately, it was a disappointment, and I abandoned it about 70 pages in (someone once told me to give a book 100 pages minus your age before giving up). It was more about social scandals than Andrew Jackson. Pass.
I also knew that H.W. Brands had a well-known one-volume bio of Jackson, but I've had some poor experiences with Brands and didn't feel like giving him another shot.
So I figured I'd dive into Robert Remini's 3-volume set, at the recommendation of Steve Floyd. I got about 100 pages in and thoroughly enjoyed it, but decided it was just going to end up being too much. I didn't know hardly anything about the guy; I needed an overview before I got into 1,500 pages of text. So I grabbed the one-volume abridgment, which clocks in a totally reasonable 360 pages. (Though it should be noted that the margins are minimal and font size is very small; it felt at least a third longer than that.) I'm not generally into abridgments, but Remini did this one himself, carefully excising the unnecessary text and presenting a carefully crafted, compelling, and most importantly, digestible account of the life of Andrew Jackson.
If you're going to start in on the General's life, this is definitely the volume I recommend, even it is a hair dry at times. The final paragraphs are some of the most convincing and powerful I've read in all my presidential reading.
---
Okay, that's it for me this week. Let me know what you're reading; I always enjoy hearing. Thank you for your time and inbox space.
-Jeremy