Discover more from Read More Books
Book reviews, author interviews, bookish news and lists, and more — delivered every Tuesday and Friday morning.
Over 7,000 subscribers
What I'm Reading (No. 95): in translation
While I finished this handful of books about a month ago, they're still etched in my consciousness, one for better and one for . . . not worse, but more neutral I suppose.
For book club, we read Elena Ferrante's massive global hit My Brilliant Friend. I was the only one of our group to enjoy it enough to continue reading the series (four books total), but I think I at least convinced some others of its merits.
I also finally read Frederick Backman's equally massive, though more well-known title, A Man Called Ove. It started a little slow for me, but ended as a delightful, fun read.
I tend to have trouble reading translated works; not because of the translated words themselves, but simply because I always have a hard time knowing if I'm enjoying the author, the translator, or a mix of both (which is assuredly the answer). I'm always wondering how accurate the text is to the original — to what the author really meant to say and wanted to convey to their audience. I inevitably get bogged down in those thoughts rather than just enjoying the story and the prose.
So, I don't read a whole lot of translated stuff, especially of the modern variety. One of my reading weaknesses, I suppose. When I do read foreign, it tends to be old classics or the ancient religious and philosophy works I enjoy. So this week's features are definitely somewhat of a departure from my normal fare.
Right off the bat, I'll say that while I give more space to Ferrante than Backman, the one you should read with no hesitation at all is the latter.
Here's why:
---
A Man Called Ove
by Frederick Backman (2012, 337 pages)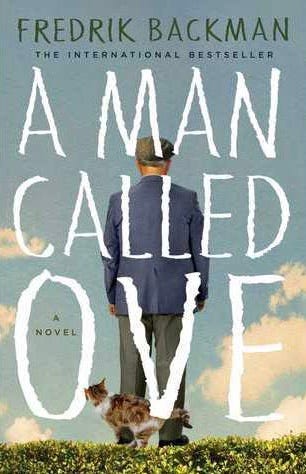 Backman's A Man Called Ove exploded onto American bookshelves a year after first being published in Sweden. I knew plenty of people who read and really liked it, noting that it was a fast-paced book about a grumpy old man.
That's quite an apt description.
Ove is the ultimate wisened neighbor. He's older, but not old. I actually had to keep reminding myself he was only about 60 years old; it was easy to read him as being closer to 75. He's a bit cranky about all things young and new, and takes his role as neighborhood watchdog very seriously.
The first 100 pages or so are mostly about establishing this crotchetiness. And I got a little tired of it . . . the point was repeated over and over with various anecdotes. I nearly gave up on it, actually (which is a weird thing to say given how much I ultimately enjoyed the book).
But then, Backman brings in some surprising and slightly twisty plot points, and I was sucked right back in. Ove softens, some; his lovely and perfect wife enters the picture a little more; the neighbors are given some depth.
I plowed through the next two-thirds of the book, and closed it with a hint of a tear in my eye. The ending was as satisfying as I've read in recent years and the book definitely fits into the "feel good" category that I'm coming to appreciate more and more.
A Man Called Ove is a story that the world needs more of and a main character that the world needs more of. If you've not read it, do yourself a favor and grab it ASAP. It won't take long, and you'll feel better at the end. Couldn't we all use some of that as the holiday season comes barreling in?
---
The Books of the Decade
We're nearing the closing of a decade, which means BOOK LISTS are coming! If there's anything I enjoy more than a good book list, I haven't found it yet. I always eagerly look forward to the Best Of lists that come at the end of each year, so I'm rather excited to see these start popping up for the decade. While not many outlets have done it yet, Lit Hub has started revealing the top books per category/genre each week. The merits of lists like these could be debated at length, but rather than doing that, I'll just share with you the links for the categories they've covered thus far:
Enjoy perusing, as I have!
---
The Neapolitan Novels
by Elena Ferrante (2012-2015, 1,696 pages)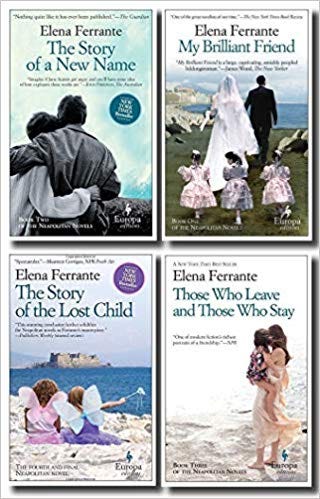 A couple things at the outset:
1) I devoured the first 3.5 books, intensely interested in the stories and characters and place of Naples, Italy, but the second half of the final book soured the series for me. I sure still appreciate books 1-3, and especially book 2.
2) Elena Ferrante, for those who aren't familiar with the famed Italian writer, is a pseudonym. While there are educated guesses at her true identity, there's been no confirmation and she remains a mystery. Fine by me; if she doesn't want to be known, who are we to force her hand?
3) We can all acknowledge the covers are terrible; they are are universally panned and it's an enduring mystery of the literature as to why they have the artwork they do.
Onto the books.
The series revolves primarily two women: Elena and Lila. Elena narrates as an older woman, re-telling to the reader the story of their relationship. Reviews tend to call it a realistic and powerful portrayal of female friendship, but that doesn't seem to be an accurate description; from the beginning Elena and Lila's friendship is dramatic and dysfunctional and driven by innumerable jealousies.
Note: There are some inevitable spoilers ahead, but nothing too crazy.
The first book, My Brilliant Friend, takes us from their childhood in post-war Italy to their teenage years. The girls compete in school, they compete in their bravery, and as they get older, they compete for the affection of West Side Story-like boys.
The Story of a Name then takes into Elena and Lila's twenties; they've now taken wildly different paths in life. Rather than just competing with each other, the two women are trying to figure out what's meaningful in life, and how to get it with the least amount of pain.
Those Who Leave and Those Who Stay finds the women in the midst of adulthood, trying to figure out how to navigate the messy realities of daily life (especially as women in a misogynistic culture) while still grasping for that long-ached-for meaning.
The Story of the Lost Child concludes the series . . . and again, without giving anything away, and in my humble opinion, degrades a lot of what was built up in the first three novels.
As much as this book and series is about the main characters, it's also about the city of Naples, the impact of how you're raised, what it means to be loyal to your friends and family and hometown while still striking out on your own, and of course, the nature of love and friendship.
It's a drama-filled series, with plenty of dysfunction along the way, but Ferrante's style is so emotionally powerful and raw that I had a hard time putting the books down. Her writing is almost Hemingway-esque in its sparseness, but with far more feeling.
As with many others books — perhaps all, in fact — one's reading inclinations will largely determine how you take this series. If you feel like tackling something that's perhaps out of your normal reading wheelhouse, check it out. I read a lot of pages, but still can't ultimately figure out how I felt about it all. That's about as honest of an assessment as you'll get.
---
Alrighty, that's all for me this week. I appreciate your time and inbox space, and please let me know what you've been reading!
-Jeremy