Discover more from Read More Books
Book reviews, author interviews, bookish news and lists, and more — delivered every Tuesday and Friday morning.
Over 7,000 subscribers
What I'm Reading (No. 96): gritty
I had the great privilege of reading an early copy of Sam Gwynne's newest book, Hymns of the Republic, and can finally tell you all about it.
In the last week I also devoured an unexpected delight — The Body Broker by Daniel Ford. It's one I had never heard of, landed on my doorstep in a roundabout way, and was definitely one of my favorite reads of the fall.
Both had a gritty quality that I really enjoyed. You might automatically think that also means violent, but that's not always the case. It's really more about telling things like they are — no gloss — with characters who might be a little rough around the edges and outside of social norms. Along that theme, I also included a fun list of other gritty books I've enjoyed.
Let's do it.
---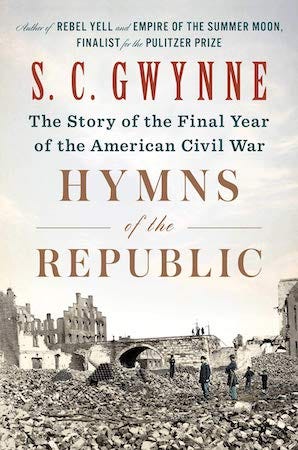 "Grant, among a crowded field of often timid, indecisive, and incompetent Union commanders, was the best choice to win the war."
I tried reading this book on our vacation in late August, cracking its electronic pages open on an idyllic ferry ride from Anacortes, Washington to Orcas Island. The problem was that Jane looked over at my Kindle, saw a rather blood-filled sentence, and said I was being ridiculous to read that on our vacation. She was right, and at that particular time I put the book aside for lighter fare.
As with all of Gwynne's books, it's an unvarnished account of history — no niceties, no sticking with scholarly objectivity (there are opinions aplenty, which is honestly a welcome change from most history books), and certainly no hesitation about presenting the gory realities of war.
The final year of the Civil War, from the spring of 1864 to the spring of 1865, was radically different from the first three years. While there were a number of reasons for the tide change from a back-and-forth fight to a Northern victory, one of the most obvious was Lincoln's appointment of Ulysses Grant to command the entirety of the Union forces. And indeed, Grant looms large in Hymns of the Republic, as do the biographical sketches of a number of other characters from both sides of the fight. At times, it was almost Plutarchian in its comparing and contrasting of various commanders.
Though the book reads more like a series of connected vignettes than a truly cohesive narrative, it's a structure that works well here. The war was so big and covered so much territory (literally and figuratively) that almost every book is either very niche — covering a single aspect, person, battle — or so weighty that it intimidates all but the most die-hard reader. Gwynne, as he did with his superb history of the Comanche tribe, keeps the story approachable enough for just about anyone (if you can stomach the brutality of the Civil War, of course).
Sam is as good a writer as there is, bar none. All of his books are real, raw, and utterly different from you expect out of the history genre.
---
A Gritty Reading List
By its very nature, most of the books defined as "gritty" fall into the Western, detective, war, and apocalypse categories.
---
The Body Broker
by Daniel Ford (2019, 253 pages)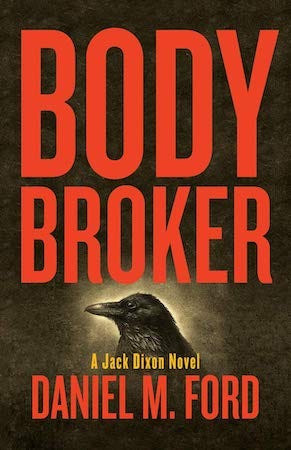 The last time I was this pleasantly surprised by a novel that landed on my doorstep was Seth Greenland's The Hazards of Good Fortune.
Ford is not a rookie writer, but this is the first book of his that falls into my own reading wheelhouse and is the start of his Jack Dixon series, which revolves around a Philip Marlowe-esque PI who lives on a houseboat in Baltimore.
The modern comparison character is inevitably Jack Reacher — the gruff ex-military man who stars in Lee Child's never-ending series. But I actually found Jack Dixon to be more likable. Yes, he's gruff, but in a fun way — he's a weightlifter who dogs on cardio any chance he can get, he pounds peanut butter by the gallon, enjoys a fine homemade cocktail, and can cook his ass off.
The strength of the novel lies in how different it is from most modern detective/thriller stories. For one, I really appreciated the brevity. At 250 or so pages, it's half of what Child and James Patterson and Brad Thor are regularly cranking out. And whereas those guys rely heavily on crazy plot twists and violent shootouts, Ford writes superb characters who are solving a case that's indeed surprising, but not reliant on unbelievable turns in the story.
It's clear that Ford is a writer rather than just a story plotter. It's a distinction I really appreciated and made me want to dig into some more classic detective stories.
The Body Broker was a quick, super fun read that's definitely gritty, but doesn't rely on the usual tacts of gratuitous violence or sex. Definitely felt like a novel out of the 50s, in the best way possible. I definitely recommend it, and can't wait for the next title in the series, which comes out in the Spring.
---
One Last Thing
On Wednesday night, our book club discussed Robin Sloan's Sourdough. I first read it late last year and was just delighted by it. It's the story of a young woman who acquires a sourdough starter and becomes a bit of an amateur baker. Inevitably, that hobby clashes with her high-tech job in the Bay Area. The story is funny, sarcastic, and light-hearted, while also providing some social commentary on the role of technology in our world. I read it again for book club and enjoyed it just as much, as did the rest of our group. If you need a fun read for the holidays, consider this one.
---
Okay, that's all for me this week. I really appreciate your time and inbox space, and I can't wait to hear what ya'll have been reading this week.
-Jeremy