Discover more from Read More Books
Book reviews, author interviews, bookish news and lists, and more — delivered every Tuesday and Friday morning.
Over 7,000 subscribers
What to Read Next (No. 121): a Russian edition
A couple small notes before we jump into the books:
1) You've possibly noticed that I changed the name of this publication from "What I'm Reading" to "What to Read Next." Over the last couple years this newsletter has evolved from a small group of mostly friends and family readers who knew me well into a large community of folks who use it as reading inspiration and to add titles to their "Books to Read" list. The "What I'm Reading" moniker just doesn't quite fit as well anymore, so it was time for a change. I'm truly humbled by the response to this newsletter and I'm really excited to see where it will go from here. If you get something out of it, forward it to a friend and tell them to subscribe!
2) In last week's edition, I had the chance to interview author and NPR reporter Lulu Miller about some of her reading habits and favorite books. I love hearing from bookish people about what they're reading and why, and what has stuck with them over the years. So, every other week I'll be featuring interviews with well-known folks in order to give you a peek into their reading lives, and of course, to continue to add books to your list! If you like the new feature, let me know; it's possible that I'd be able to do it every week. I have some great interviews already in the hopper that I'm excited to share with you.
Okay, on to the newsletter!
---
As I mentioned about five weeks ago, I really enjoyed Amor Towles' A Gentleman in Moscow. Last night, we had our Zoom-sponsored book club chat about it, which means I can share my thoughts with all of you. While I worry about forgetting my initial reactions, sometimes letting a book marinate for a few weeks helps you find your own lasting opinion a little more readily.
That novel got me kick-started on some other Russian reading and this week I finished the late Robert Massie's Nicholas and Alexandra, which unexpectedly turned out to be one of the finest biographies I've ever read.
These combined 1,000+ pages of Russia have only whetted my appetite.
Let's do it.
---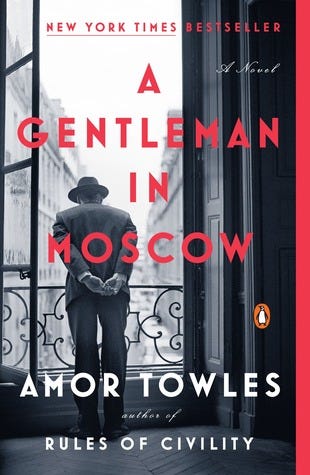 "By their very nature, human beings are so capricious, so complex, so delightfully contradictory, that they deserve not only our consideration, but our reconsideration—and our unwavering determination to withhold our opinion until we have engaged with them in every possible setting at every possible hour." 
Our latest book club pick was a hit all the way around. Right after the Russian revolution of 1917, at the luxurious Hotel Metropol is Moscow, Count Alexander Rostov has been placed on house arrest for the remainder of his life. (I'll let you read the book to learn how that happened.)
Rostov fits the mold perfectly for that scholarly, gentlemanly type of figure — his outfit, his reading, his conversational skills, his refined tastes and manners in all things. To me, he was actually a bit of a James Bond-like character, without the spy stuff. I liked him from the start and it never let up.
For the first hundred pages or so, we're really just getting to know the hotel itself, Count Rostov, and his daily life of opulent house arrest. It's a touch slow at the start, but the writing and the superbly developed characters kept me easily hooked.
And then a delightful young girl enters the picture, throws the Count off his balance a little, and the plot picks up steam slowly but surely through the decades and all the way to the end.
It's chock-full of one-line proverbs and witticisms ("While a man should attend closely to life, he should not attend too closely to the clock.") and written in language that's as elegant as the Metropol itself.
Towels' novel just oozes with charm and manages to slip in — rather than beat us over the head with — philosophical musings on friendship, parenthood, the call of home, and perhaps most poignant, being quarantined.
A Gentleman in Moscow is a beautiful, superbly crafted book that has only gotten better in my memory as time goes on.
---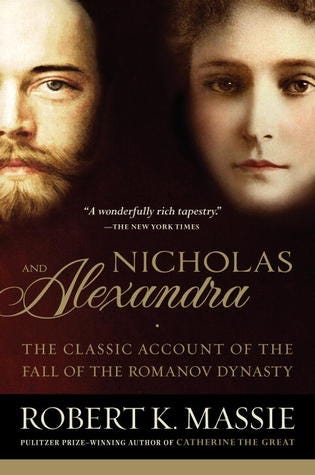 "It is one of the supreme ironies of history that the blessed birth of an only son should have proved the mortal blow. Even as the saluting cannons boomed and the flags waved, Fate had prepared a terrible story. Along with the lost battles and sunken ships, the bombs, the revolutionaries and their plots, the strikes and revolts, Imperial Russia was toppled by a tiny defect in the body of a little boy."
I can think of only a few writers who can craft a narrative as well as what Robert Massie accomplished in his 1967 biography of the last Tsar of Russia. From the very first page I was hooked by his writing style and ability to zero in on the details of a family while also zooming out to show the national and global consequences of seemingly insignificant events.
Of course, Massie benefits from his subject being one of the most surprising, captivating, head-shaking stories in all of history.
The Romanovs had been ruling Russia for hundreds of years; when Alexander III died unexpectedly in 1894, his son Nicholas II took the throne. He married Princess Alexandra of Germany, one of Queen Victoria's favorite granddaughters. They had four girls before producing an heir to the throne in Alexis. The happy parents were quick to discover, however, that Alexis suffered from hemophilia — in which the blood does not clot properly. In the early 20th century, it was a devastating and deadly diagnosis; a nose bleed or a sprained ankle could kill him.
And then the fabled Rasputin came along — the ultimate wolf in sheep's clothing. Part holy man, part philanderer, he seduced Alexandra (not literally, contrary to some popular belief) into believing he was the only man who could help her son. Eventually, though, his voice became too loud in Russian affairs, especially in the midst of WWI and the coinciding rise in socialism/communism in greater Russia.
I'm required by my own self-imposed writing limitations to skip some important steps, but ultimately, Lenin's regime massacred the entire family and the Romanov's centuries-long reign came to a swift and brutal end.
When you combine a story as intensely dramatic as that with Massie's ability to just write the hell out of it, you get a book — and characters — that will stick with you for ages. I can't wait to read Massie's other Russian histories. This is truly an all-time great biography.
---
That's all for me this week. Thank you all so much; it's a pleasure to do this each week. I know how valuable your time and inbox space is.
Also, let me know what you're reading!
-Jeremy