Discover more from Read More Books
Book reviews, author interviews, bookish news and lists, and more — delivered every Tuesday and Friday morning.
Over 7,000 subscribers
What to Read Next (No. 123): Memorial Day edition
After the Civil War ended — which took more American lives than all of our other wars combined — the men, women, and children who remained didn't know how to respond. The ~750,000 losses were unfathomable . . . numbing, in fact. In that aftermath, just about the only response was to acknowledge the grief. In the years immediately after the conflict, that remembrance took the form of decorating the graves of fallen soldiers, which eventually morphed into a federally recognized Memorial Day.
Since the holiday's beginnings are tied to the Civil War, I read Rachel Lance's new In the Waves, which is the story of the Hunley, a Confederate submarine that mysteriously sank in 1864. And though I'll usually be doing author interviews every other week, I couldn't resist asking Rachel some bookish questions.
When it comes to reading for this summery, yet somber holiday, I like to dig into a soldier's experience rather than some larger overview of a war or battle. Memorializing our veterans is about acknowledging those individual experiences and remembering the soldier's names rather than just battlefields and grand strategies and troop movements. To that end, I'm also providing a short list of 5 Memorial Day reads related to the unceasing war in the Middle East — a war that is increasingly seeing phenomenal literary works of remembrance emerge from its horror.
---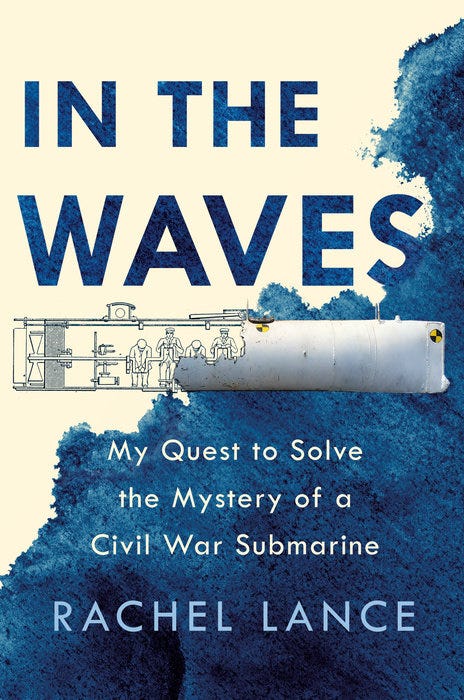 I like Civil War stuff. As a dad, I'm obligated to like anything with a submarine in it. And I terribly enjoy mystery stories. In this new book, Rachel Lance has brilliantly combined all of those in a lively and highly readable account of what had long remained a Civil War question mark.
In 1864, a smallish, 40-foot Confederate submarine hovered just under the surface of Charleston Harbor with a torpedo attached out front on a 22-foot-long spur. This vessel had been haunted by poor luck and numerous prior deaths, but this mission against the USS Housatonic appeared to be a success. There was a direct hit and the enemy ship sank in a matter of minutes (albeit with minimal loss of life). But as her operators waited back on shore, the Hunley failed to show up. The submarine and her eight sailors were lost.
When the boat was found and recovered in the 1990s, it was mostly intact, and the preserved skeletons of the men didn't seem to show any sign of an escape attempt.
What on earth happened down there?
Rachel Lance, as an engineer and blast scientist, was immediately intrigued when she happened upon the story. Rather than just give us science-y explanations (of which there are plenty, don't worry), she blends genres a bit: the readers get into the history of submarines and explosions and submarine explosions, we get an utterly fascinating anatomy lesson of what happens to the human body after an explosion (the internal stuff is as bad as the external!), and we also get Rachel's own narrative of chasing down the mystery through some wild first-hand experiments.
For being a book about explosions and a group of men dying in a small metal cylinder, it's surprisingly fun. Rachel's personal touch even gives it, at times, a lighthearted tone, without minimizing the mystery and tragedy of death.
---
Some Bookish Questions With Rachel
1) Like plenty of other folks, I'm an amateur Civil War history nerd. You're an engineer and scientist by nature; did you have much general Civil War knowledge before this project? Did you do some reading in that regard to help with this project?  
Unfortunately, while I grew up with a deep love of history in general and military history in particular, I had never focused much on the Civil War before this project. Then when I began I was working as a graduate student, which meant I had almost zero time for additional reading. So, I had to focus exclusively on the aspects of the war that were relevant to the science and stick to archival documents for accuracy. As a result, though, I then had a lot of that historical research already done for the book, and was able to write about a few aspects of the Civil War that had either never been published about or at least are under-discussed, like the Confederates' crazy scramble and improvised methods for making black powder. When I began working on the book I expanded my reading list and started devouring everything I could find about the Civil War in general, but I still tried to stick to archival documents whenever possible to avoid biasing myself with other authors' opinions. I've spent a lot of time in archives!
2) I'm a big fan of Clive Cussler (RIP!) and was thrilled to see him pop up in your work; I actually had no idea that NUMA played a role in finding the Hunley. So cool! Have you read any of his fiction? They feature plenty of explosions (even underwater ones!).
I have, actually! I used to steal his books from my former roommate, who was a big fan. My favorite is probably Sahara, although in a strange twist of portentous fate he was working on the publication of Shock Wave during all of the publicity about him finding the Hunley.
3) You obviously do a lot of non-fic reading — research, reports, studies, etc. What do you read in your off time? 
I genuinely love science and medicine, so in my off time I still typically gravitate toward scientific non-fiction and books about the history of medicine, like The Ghost Map, Midnight at Chernobyl, or The Emperor of All Maladies. However, I would be lying if I didn't admit that I also love nerd-centric fiction like The Martian.
4) What are you reading and enjoying now? What's next on your list? 
I'm currently on a kick of reading books about or by people who have not been as historically noticed, and that's included following up my Civil War education with learning about Reconstruction. So right now I'm in the middle of both Stony the Road by Henry Louis Gates, Jr, which is about Reconstruction and white supremacy, and The Women with Silver Wings by Katherine Sharp Landdeck, about World War II's Women Airforce Service Pilots (WASPs). Next on my list is The Cooking Gene by Michael W. Twitty and No Man's Land by Wendy Moore. I recently had major knee surgery and still struggle with stairs, so I've been keeping one book upstairs and one down. That way no matter what I always have good reading material handy.
5) Rather than asking about a favorite book, I prefer this version: Is there a book(s) you find yourself recommending a lot, gifting a lot, or generally just talking a lot about? 
Recently I discovered that at three different points in my life I have randomly mailed copies of The Devil in the White City by Erik Larson to friends. I find that book influential and moving because of the way he blends the historical description of the life and culture of Chicago with the "true crime" aspects of the rampaging serial killer HH Holmes. The mixture of the two subjects is a good reminder that no matter what historic events are occurring, normal life goes on too. It's rare for books to straddle genres like that, and I thought about that book often while writing my own genre-blender.
6) Do you have any Memorial Day recommendations?
Two of my favorite military history books that would be appropriate for Memorial Day are Blind Man's Bluff and Sonic Wind. Bluff is a collection of stories from submariners, and includes tragic stories of several modern sub sinkings. The author, Sherry Sontag, did a beautiful job of using submariners' own testimonies that is both engaging and (I think) does them honor. Sonic Wind is about John Paul Stapp, a military officer determined to figure out a safe way to build ejector seats to save the lives of military pilots during WWII. The book is more of a general biography but covers his work during that time period. He strapped himself to a experimental sled propelled by literal rockets, and while he survived the research, he very much did some serious damage to himself while trying to save pilots' lives. I think overall it fits with the idea of sacrifice by military service members. [Editor's Note: I loved learning about Stapp in one of Craig Ryan's other books, The Pre-Astronauts. Check it out too.]
---
A Short Memorial Day Reading List
---
That's all for me this week. Hope everyone has a nice holiday weekend. Thank you for the time and inbox space.
-Jeremy