Discover more from Read More Books
Book reviews, author interviews, bookish news and lists, and more — delivered every Tuesday and Friday morning.
Over 7,000 subscribers
I was going to write about War and Peace this week. I finished the 1,300-page beast last weekend — it was surprisingly readable and completely captivating. But then our nation had other ideas.
It's jarring, to say the least, when a national crisis unfolds on top of a global crisis. Given the long-term nature of a pandemic it's unsurprising — even expected — that another problem would emerge. But to see and feel the reality of compounded disasters in a complete vacuum of competent leadership has rattled our collective souls.
Honestly, I don't really know what to do in this space. I'm an extremely privileged white male living in a very white suburb of a mostly white metropolitan area. My instinct is to give you a list of books to read on race and systemic persecution — because of course it is and that's what everyone else is doing. It's not a bad impulse, but that's not necessarily my place right now. There are numerous lists going around the web right now. Check out:
For what it's worth, this week I've exchanged my regular podcast listening for Ibram Kendi's book How to Be an Antiracist. I'm only partway through, but I'll give you a short rundown below. (Thanks to David Epstein, who generously gifted the audiobook to me; check out his Twitter feed, as he may do more giveaways.)
This week's edition is much shorter than usual. My challenge to you this week: Pick a book from one of the lists above, BUY IT (which supports the author), and educate yourself. What you give you attention to makes a difference.
---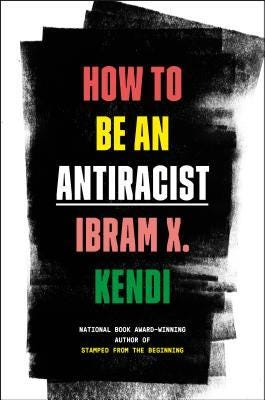 "Denial is the heartbeat of racism."
I first encountered Ibram Kendi in the excellent podcast series Seeing White. Hearing him talk about the history of racism was eye-opening and maddening, to say the very least. (His award-winning book Stamped is all about that subject.)
This new book includes some of that history — the idea of categorizing people by race is a fairly new invention, and it's never been neutral. From the beginning, race has been about power structures and hierarchies.
It also includes some memoir-ish elements. The story of his parents attending the Urbana '70 conference was memorable for me, as that conference deeply impacted my thinking in 2009.
But the bulk of it, so far (again, I'm only partway through), is about defining racist and antiracist, racist and antiracist ideas and policies, and generally just changing the way you think about this construct of race.
It's challenging and powerful and intensely thought-provoking. There've been a few times that I've thought, "That sure sounds like truth and yet I don't want to admit or confront it." Thats's what it feels like when a book is working. Ibram moves racism from a defining character trait to a set of actions. Everyone, he notes, has thoughts and actions that are racist, but that doesn't make our core being racist. We have to be unafraid of labeling the things we do and say and think as racist; and then we have to be unafraid of correcting those things.
Okay, that's enough from me in the midst of this weird week. Thank you for the time and inbox space.
-Jeremy