Discover more from Read More Books
Book reviews, author interviews, bookish news and lists, and more — delivered every Tuesday and Friday morning.
Over 7,000 subscribers
What to Read Next (No. 134): the Kennedy allure // interview with a rocket scientist
After getting through a few of the forgotten presidents in the last few weeks, I took a break from the dry books and read Robert Dallek's acclaimed biography of John F. Kennedy. It was spectacular. I also interviewed Ozan Varol and have a few article links to share. Let's get to it.
---
A Few Links to Start
If you haven't yet, please read John Lewis' final op-ed in the Times. He asked them to publish it on the day of his funeral, giving it even more weight as his final words. It's short and incredibly powerful.

Ed Yong has done incredible work at The Atlantic through the course of the pandemic. All of his pieces from the last 6 months are worth reading, but especially this week's "How the Pandemic Defeated America."

I had a few articles published in July at Art of Manliness that were among the most popular on the site for the month. Check 'em out:
---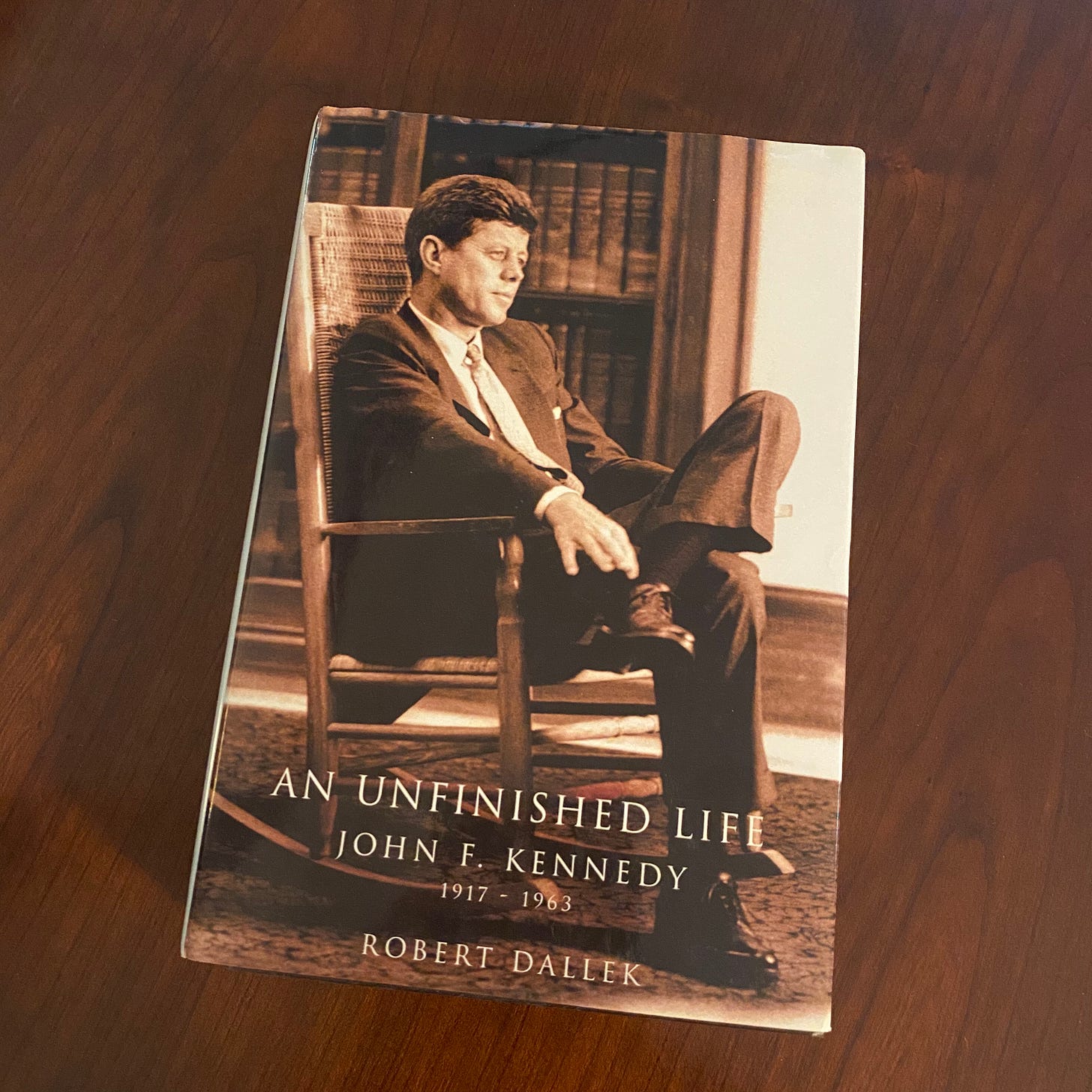 Published: 2003 | Pages (w/o notes): 715
The Kennedy family was a political and social fixture in New England throughout the first half of the 20th century. But it wasn't until John's election to the Senate in 1952 that, as a unit, they were catapulted to the status of American royalty. Since then, our nation's collective attention has been held captive by their charming smiles (and hair), rousing speeches, public sexcapades, and of course, numerous shocking and utterly tragic deaths.
Honestly, though, I didn't really understand all that appeal until I read Robert Dallek's completely beguiling study of the 35th President of the United States.
Growing up in the '90s, I was familiar with a different charismatic president dogged by sex scandals. I figured the JFK story was along those same lines and I didn't care to dig much deeper.
But, within a couple dozen pages of An Unfinished Life, Dallek had me hooked. I get the Kennedy allure.
Every single character in that family is utterly fascinating. The males ache for power; the women tag along, while doing more behind the scenes — and putting up with more bullshit — than would ever be shown on TV.
Based on all the evidence, it seems that John Kennedy truly cared for the nation's interests, which is a lot better than a lot of other presidents we've had. That he was a rich son of a corrupt and at least halfway tyrannical father doesn't change that fact, nor does his unhealthy marriage and addictive appetite for clandestine sexual encounters.
There was very much a type of Jekyll and Hyde duality to his life and personality. At times, he was a well-informed, dedicated, even heroic leader (i.e. in his WWII service and in dealing with his numerous and very serious health problems). At other times, he wasn't those things — showing his lack of touch with the real world, treating his relationships like garbage, caring more about the competition of an election than in bringing about true social change.
Dallek covers all of this nearly perfectly, in my opinion. I wish he had written about the assassination a bit more — he does so in just a handful of pages — but I suppose he figured there was enough material out there that it didn't need re-hashing. Besides just telling the story, Dallek also does a marvelous and convincing job analyzing Kennedy's lasting meaning to the nation.
An Unfinished Life is among my top few favorite POTUS reads thus far.
---
A Few Bookish Questions With Ozan Varol
These days, it's not often that I can find a business-y, personal development book that I can get all the way through. I've read and received sooo many over the years that they've all turned into a blur of repeated studies and platitudes. Most end up relegated to the closet, not even worthy of a home on the shelves. Ozan Varol's Think Like a Rocket Scientist easily cut through the junk. That's possibly because Ozan used to be a rocket scientist. He's now a law professor and author, and I had the pleasure of asking him about a few of his favorite books. Also be sure to sign up for his newsletter, which is also a delight.
1. Given your rocket scientist background, do you have any favorite books that hit on that subject (space, NASA, rockets, etc.)?
There are too many to list, but one of my recent favorites is Rocket Men by Robert Kurson. In the book, Kurson tells the story of Apollo 8, the first mission that put humans in orbit around the Moon. The book has all the makings of a thriller — life-and-death moments, a race against time, and the heroic tale of unbreakable women and men who turned the impossible into the possible. But above all, it's a story of how these astronauts — Greek for star sailors — set sail for the Moon, but in so doing, discovered the Earth.
[Jeremy's note: This is a book I've referenced a lot in the last few years. Check out my review here, which echo Ozan's.]
2. Your writing nowadays has a lot to do with how we think. Which books have most shaped your thinking on the idea of how to think?
The Demon-Haunted World by Carl Sagan. 
Originals by Adam Grant.
Deep Work by Cal Newport.
The Coddling of the American Mind by Greg Lukianoff and Jonathan Haidt. 
3. I would guess that a lot of your reading is non-fiction. Is that accurate? Is there a subject or particular genre you can't get enough of? 
My reading is primarily non-fiction, but I often read fiction at night to unwind. A few favorites in the fiction category include 11/22/63 by Stephen King and Dark Matter by Blake Crouch. 
4. What are you reading and enjoying right now? What's next on your list?
I recently finished and loved The Art of Gathering: How We Meet and Why It Matters by Priya Parker. There are books you didn't know you needed until you read them. This is one of them. The book completely changed the way I look at any gathering and how I go about hosting them. 
5. What are a few books you find yourself recommending a lot, re-reading, gifting over and over, or generally just thinking a lot about?
The book I've gifted most often is Susan Cain's Quiet. 
I first read Quiet 8 years ago. At the time, I was a baby law professor attending a conference where I was supposed to network with other professors. As an introvert, I found this shoulder-rubbing ritual exhausting. Every now and then during the conference, I would run up to my hotel room to recharge in solitude and read sections from Cain's book. 
The book made me realize that I wasn't missing some "socialization" chip that came pre-installed in other humans. I realized that it was acceptable — even valuable — to prefer listening to speaking and deep conversations to small talk.
Beyond that, the book also planted a seed in me that took 8 years to blossom. Having read Cain's book, I realized that academic writing may not be the end-all and be-all for me, and that someday I might want to write a book for general audiences. That seed started the journey that eventually blossomed into my new book, Think Like a Rocket Scientist.