Discover more from Read More Books
Book reviews, author interviews, bookish news and lists, and more — delivered every Tuesday and Friday morning.
Over 7,000 subscribers
What to Read Next (No. 137): forgotten presidents, part II
I got a surprising amount of feedback from the first edition of the bibliography of forgotten presidents. It seems to be a topic ya'll are interested in, which is so wonderful. A few of you even let me know you bought the John Tyler bio that I recommended.
Millard Fillmore, Franklin Pierce, and James Buchanan were the three presidents prior to the Civil War (and our greatest president). Seeing as their combined 10ish years in office led to the great scar of America, it's unsurprising that the trio is often found right at the bottom of presidential rankings.
Thankfully, for my sake, they make for a very interesting group of guys to read about. Added to that is the fact that the 1850s were the most politically complex decade in our nation's history, which naturally makes for rather compelling, if not easily understandable, reading. Plus, the books themselves aren't half bad.
Let's get to it.
---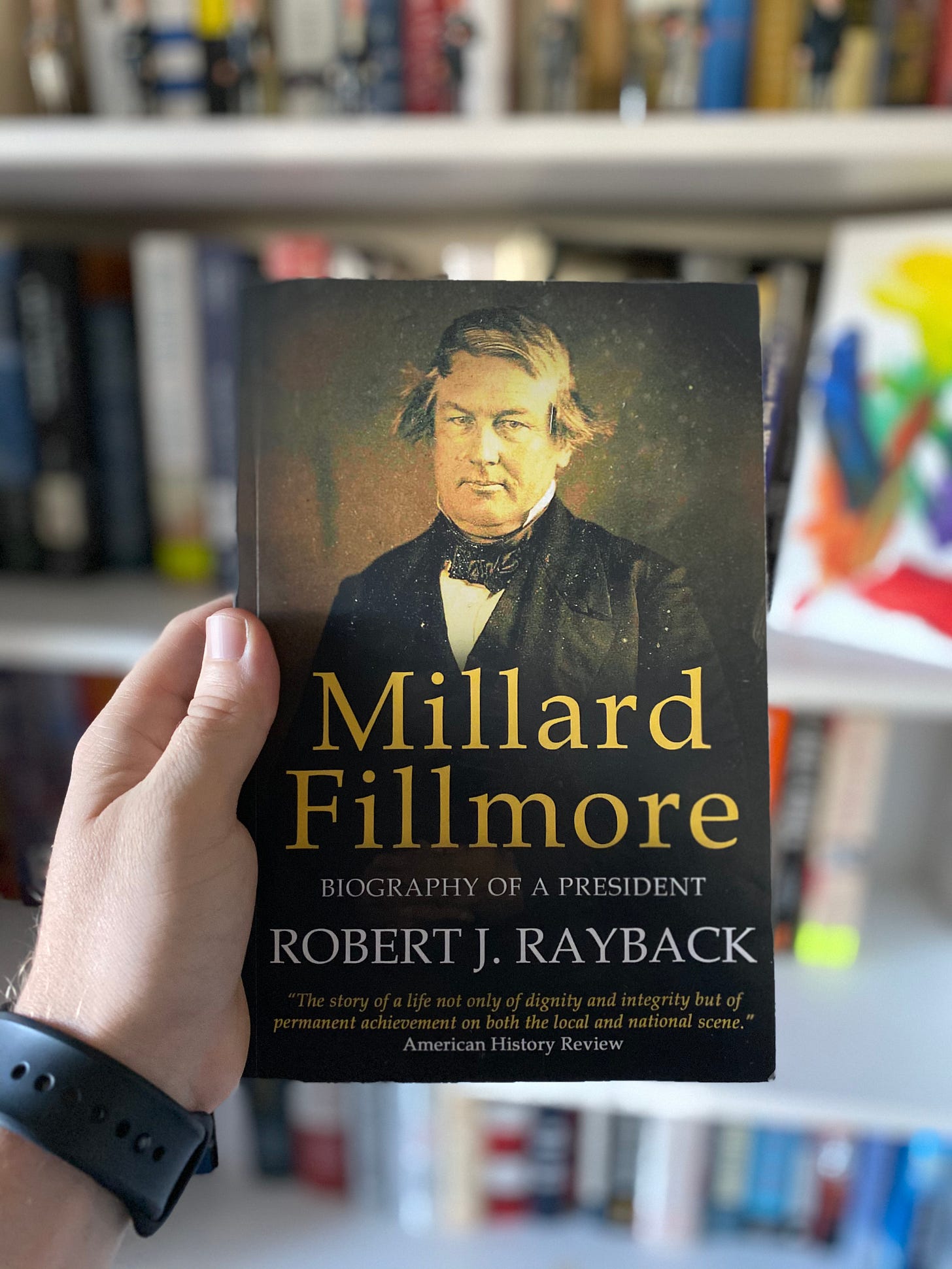 Published: 1959 | Pages: 358
Fillmore is a hard guy to get too upset with. Taking over after Zachary Taylor died just 18 months into his term, Millard assumed a role he wasn't all that fit to take. The merits of his most consequential legislation, the Compromise of 1850, are still debated by historians, but there's no doubt that Fillmore did just about the best he could, and with the best intentions, given the circumstances.
From his humble origins in upstate New York, Fillmore worked his way up in the Whig party and all the way to the White House. I don't have the space here to get into much more than that, other than to say that Millard was a more interesting fellow than I expected coming into it.
Plus, he was bookish! Millard and his wife, Abigail, spearheaded the creation and design of the first permanent White House library. The first 12 presidents (those who read, at least) brought their personal book collections in and out of the house, but the Fillmores were intent on making a permanent collection readily available to every president to come afterwards. Included were numerous biographies, national histories, reference books, and plenty more.
In his post-presidency years, he returned to Buffalo and spent his remaining years working tireless to improve the city he so loved.
While Fillmore proved an engaging enough person to study, Rayback's book is quiet dated and this edition badly needs a proofreader. It's mostly readable, but often dry. Presented as an assemblage of collected facts, the prose is rather lacking.
Along with many others of the era, Fillmore begs for a new biography. I can't in good faith recommend this one unless you're particularly interested in the era (or if you're following in my POTUS footsteps).
---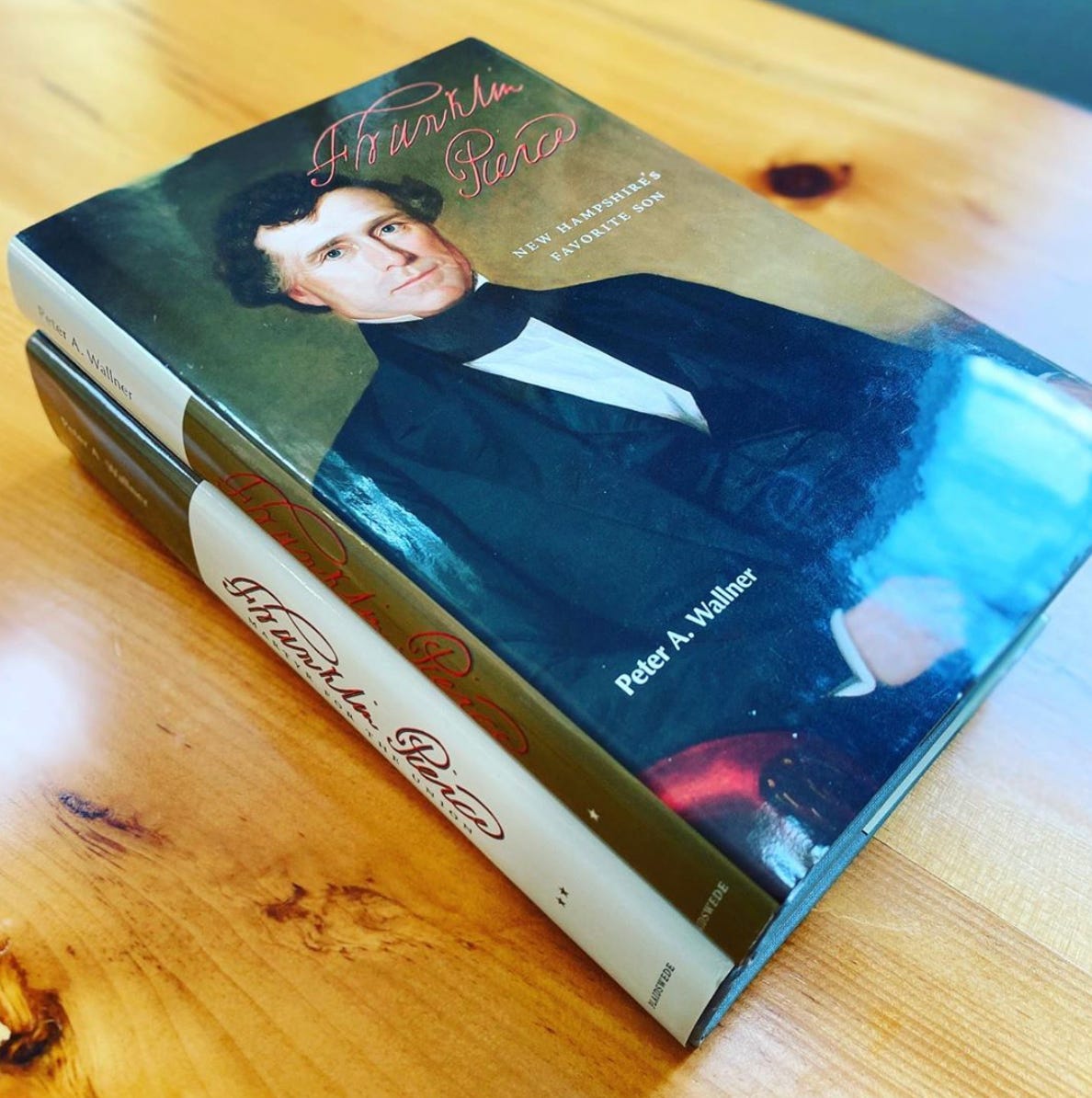 Published: 2004 & 2007 | Pages (total): 637
On a personal level, it's impossible not to feel for Franklin Pierce. Frank and Jane lost their first son just a few days after he was born, their second son at the age of 4 to typhus, and their third son at the age of 11 in a terrible train accident injury which they bore witness to. This final, brutal tragedy took place just a couple months before Frank took office, undoubtedly impacting his mental and emotional state.
Politically, Franklin Pierce is best known for his role (or lack thereof) in the Bleeding Kansas ordeal, which started on his watch in 1854. I don't have room to get into the details here, but it created a whole slew of problems, the most public of which was a series of skirmishes between abolitionists — most prominently, John Brown — and slave owners. Pierce was pretty hands off in the whole ordeal, functionally saying that it wasn't his place to interfere.
A common theme among these three presidents is their idea that the Constitution was the ultimate word on presidential authority. That's fine in concept, but if you look closer, you realize that all the best presidents disregarded parts of the Constitution in order to get important things done; at the least, they read between the lines and took an "apologize later" approach. Lincoln did all kinds of things for which Constitutionalists cried foul, Theodore Roosevelt rolled with the concept that if it wasn't explicitly forbidden then he could do it, the latter Roosevelt worked around war powers issues to help Europe at the start of WWII, etc., etc.
Fillmore, Pierce, and Buchanan all basically said, "Look, I'd love to do something about slavery, but it's not practical and the Constitution says I can't do much." They were passive in the face of an authoritative document, when only creative disobedience towards it would have made a difference. These guys just weren't those types of leaders, and the nation suffered for it.
To the books themselves: though published in two volumes, the total page count is well within the norm of a standard POTUS biography. Wallner does quite an admirable job keeping the narrative flowing and the prose is better than it would have to be, but he tries a bit too hard to revive Pierce's legacy. In my opinion, Wallner actually just helps cement Frank's place among the bottom of our American presidents. Given the difficulty in finding these two volumes, I can't recommend them to a wider audience.
---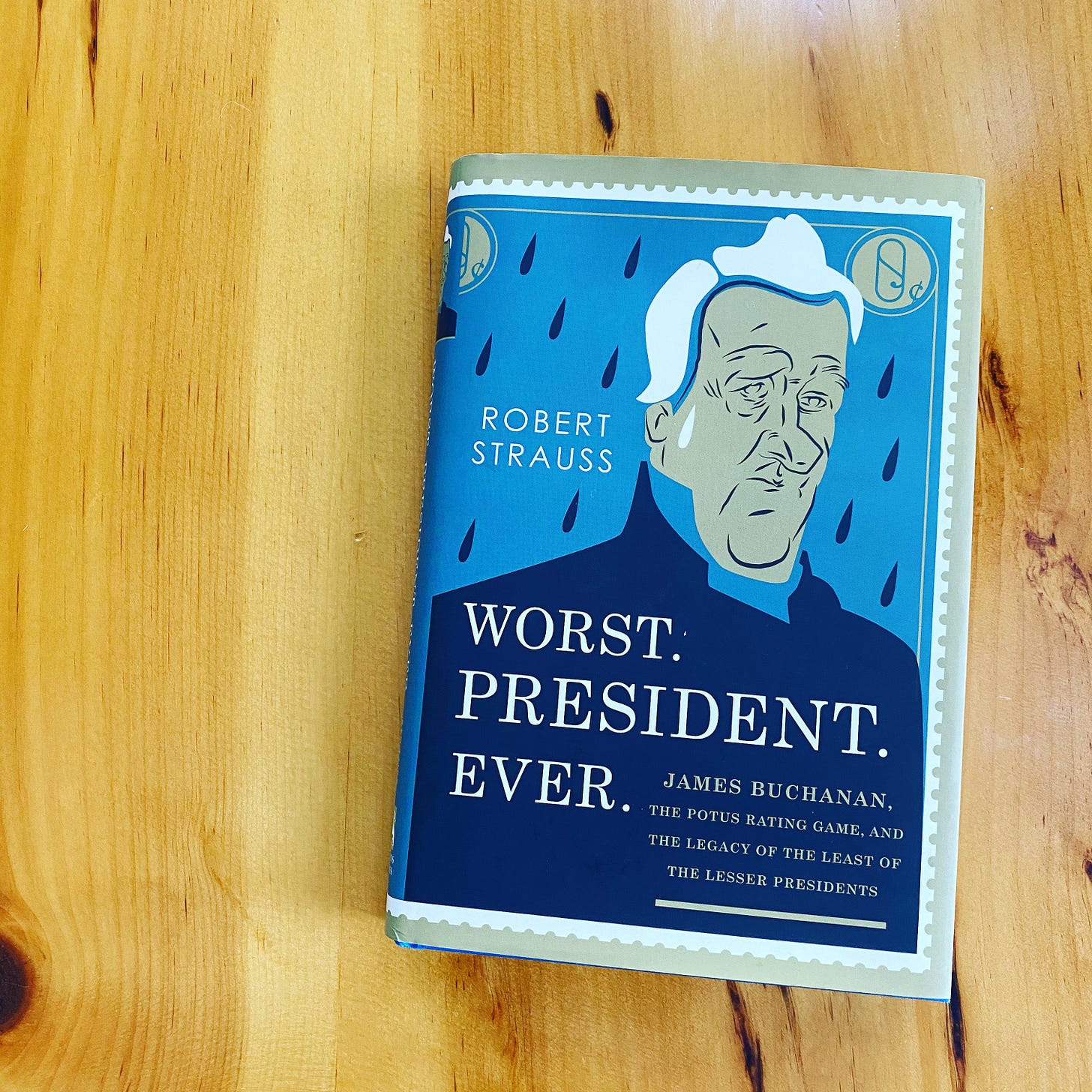 Published: 2016 | Pages: 223
Though certainly not a traditional or overly thorough biography of James Buchanan, I rather enjoyed Strauss's brief look at the guy who's most often considered to be the worst president ever.
Though clearly not fit to lead a nation on the brink of civil war, Buchanan did have an interesting personal life, and was quite possibly our first gay president. The Pennsylvanian floated around the political world, not having many firm opinions and not making much of an impression; because of that, he also never disqualified himself from service. In the complex soup of antebellum politics and factions, Buchanan found himself at the top of the Democratic ticket in 1856 and won the office of the presidency. In the tumultuous years that followed, Buchanan did a whole lot of nothing except for throwing the occasional party. As with Fillmore and Pierce, he wallowed in his inability to act, but on an even grander scale.
Strauss, much like me, has an affinity not for Buchanan himself but for the presidential ranking game as a whole. Who are the other guys in consideration for the lowest spot on the list? Why is Buchanan deserving of that placement? What about the middling fellas who didn't do overtly terrible things but just sort of floundered in the role, i.e. Fillmore?
There are a number of interesting tidbits in Worst. President. Ever. and the writing style was right up my alley. Strauss is often personal, even irreverent and funny at times, while also providing a readable history of a lesser-known figure from American history. Plus, he did it in less than 225 pages! Quite a feat, frankly. This is certainly one of the most approachable books I've read while delving into the presidents and one of a handful that I'd feel comfortable recommending to a broader audience. Give it a shot and let me know what you think.
---
That's all for me this week. I'd love to hear what you're reading and enjoying, and thank you, as always, for the time and inbox space. It means a lot to me.
-Jeremy