Discover more from Read More Books
Book reviews, author interviews, bookish news and lists, and more — delivered every Tuesday and Friday morning.
Over 7,000 subscribers
What to Read Next (No. 146): mysteries and detectives, fic and non-fic
In the last week I've really enjoyed becoming a newly minted Agatha Christie fan. The old British Dame surprised me with her sleuthing protagonists and incredibly well-formed plotlines.
Reading Agatha also reminded me that I hadn't yet mentioned an excellent WWII codebreaking book that I read during the summer.
Let's get right to it.
---
"Codebreaking is about noticing and manipulating patterns. Humans do this without thinking. We're wired to see patterns. Codebreakers train themselves to see more deeply."
The last few years have seen an influx of stories about the heroic women of WWII: Code Name Lise, D-Day Girls, A Woman of No Importance, the brand new Daughters of Yalta. Among the best of these tales is Fagone's book about Elizebeth Friedman's life and work.
In the midst of World War I, the realm of codebreaking was just emerging. It was both new art form and new science, and Elizebeth was on the front lines, not only deciphering secret German messages but also writing the guides that would lead to America's dominance in the field for the next decades. After WWI, she worked with the government to catch Prohibition-breaking felons, who often used coded messages to relay their moonshine delivery routes and pick-up locations. Once WWII came along, she was put to even greater use leading America's charge against the Nazis, enduring grueling hours without ever wavering (while her husband, on the other hand, missed long periods of time due to the stress of the job).
Speaking of her husband: though Milton has long been given more fame in the cryptology world, Elizebeth arguably contributed much more to the field. Thanks to newly unclassified documents, Fagone is finally getting the credit she has long deserved:
"By any measure, Elizebeth was a great heroine of the Second World War. The British knew it. The navy knew it. The FBI knew it. But the American public never did, because Elizebeth wasn't allowed to speak." 
(That last sentence sounds more nefarious than it really is; she was just a very classified employee.)
The Woman Who Smashed Codes is always interesting; my wife isn't often into history, but she enjoyed this one immensely and knew I would too. Beyond just Elizebeth's career arc (which includes an utterly fascinating prelude of finding secret messages in the works of Shakespeare), the reader gets a lot of info on the history of codebreaking as well as the unique makeup and psychology of the people doing it. Elizebeth Friedman's story is well worth knowing and Jason Fagone tells it marvelously.
---
Agatha Christie's Mystery Novels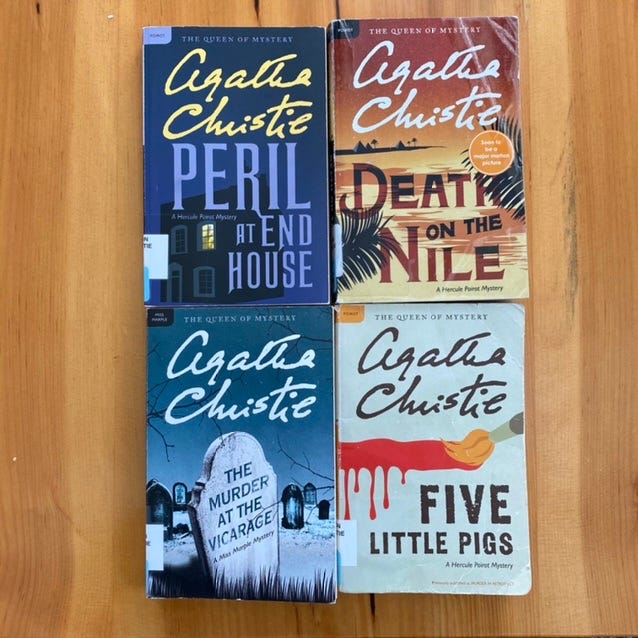 "No one can fail to be interested in a murder." —Miss Marple
Our book club has recently taken up a new method of choosing our next book:
Everyone chooses 2-3 books to submit to the pot.

From there, 3 books are randomly chosen.

We then do a ranked choice vote of those 3 to arrive at our winner.
For November, the group landed on Agatha Christie's Death on the Nile. I was, admittedly and now embarrassingly, less than impressed. It was my third pick of our options. I didn't know squat about Agatha other than that she was a mid-century writer who wrote in the "cozy mystery" genre. I assumed her writing was formulaic and bland, as with many of today's bestsellers — like James Patterson or JD Robb (aka Nora Roberts).
Nonetheless, while I was waiting for my library hold on Death on the Nile to come up, I checked out a few other of Agatha's books and couldn't have been more pleased.
It only took a few chapters for me to become an unabashed and newly avowed fan. It shouldn't be that surprising, really, seeing as how Christie is the world's all-time bestselling novelist, with an estimated 2 billion copies of her books in print. That's so many! It's estimated that even now, 40+ years after her death, she sells 4 million books annually. Wild.
I read Peril at End House and Five Little Pigs of the Hercule Poirot series (her primary protagonist), and The Murder at the Vicarage of the Miss Marple series—Christie has a few different series, and a number of standalone mysteries among her 60+ novels.
Poirot inevitably compares to Sherlock Holmes. The mustachioed Belgian is a private investigator, "a student of psychology," who uses seemingly similar methods as Holmes—though in fact their methodology is actually a bit different upon further investigation. (See what I did there? I'll do a more in-depth Sherlock vs. Poirot comparison sometime in the future.)
There's one big difference between Poirot and Sherlock that I'll mention here: Hercule Poirot is actually more likable. Holmes comes across as awkward and aloof, even mean-spirited, and tends to hold his abilities over the heads of everyone around him. When he says "Elementary!" it basically means, "You idiot, how could you have missed it!" Poirot is a social man; even though he's certainly an egotist, he doesn't demean people nearly as much.
Agatha Christie was a hell of a writer and a master plotter. Her novels are definitely more sophisticated than most mysteries, and I reluctantly enjoy their coziness. Her books are truly just mysteries, not thrillers. That's a crucial difference. Poirot and Marple won't keep you up at night, or get your heart racing, but you'll quickly turn the pages nonetheless in order to figure out the riddle. (I read each of the books in about 1-2 days.)
I can't wait to dig into the rest of Christie's canon; you'll certainly be hearing more from me about her.
---
That's all for me this week. I'd love to hear what you're reading (especially your favorite Agatha Christie titles!) and thank you, as always, for the time and inbox space.
-Jeremy