Discover more from Read More Books
Book reviews, author interviews, bookish news and lists, and more — delivered every Tuesday and Friday morning.
Over 7,000 subscribers
Before 2020 became . . . 2020 . . . Donald Trump's impeachment was shaping up to be perhaps the biggest story of the year. Which meant that my presidential reading had some more background knowledge than usual when it came to POTUS #17—following in Abraham Lincoln's impossibly large footsteps—Andrew Johnson.
Sticking with the impeachment theme, I then followed that with an absolutely enthralling biography of Richard Nixon.
I also wanted to pass along two quick links to articles I wrote over at Art of Manliness in the last month:
Let's get to it.
---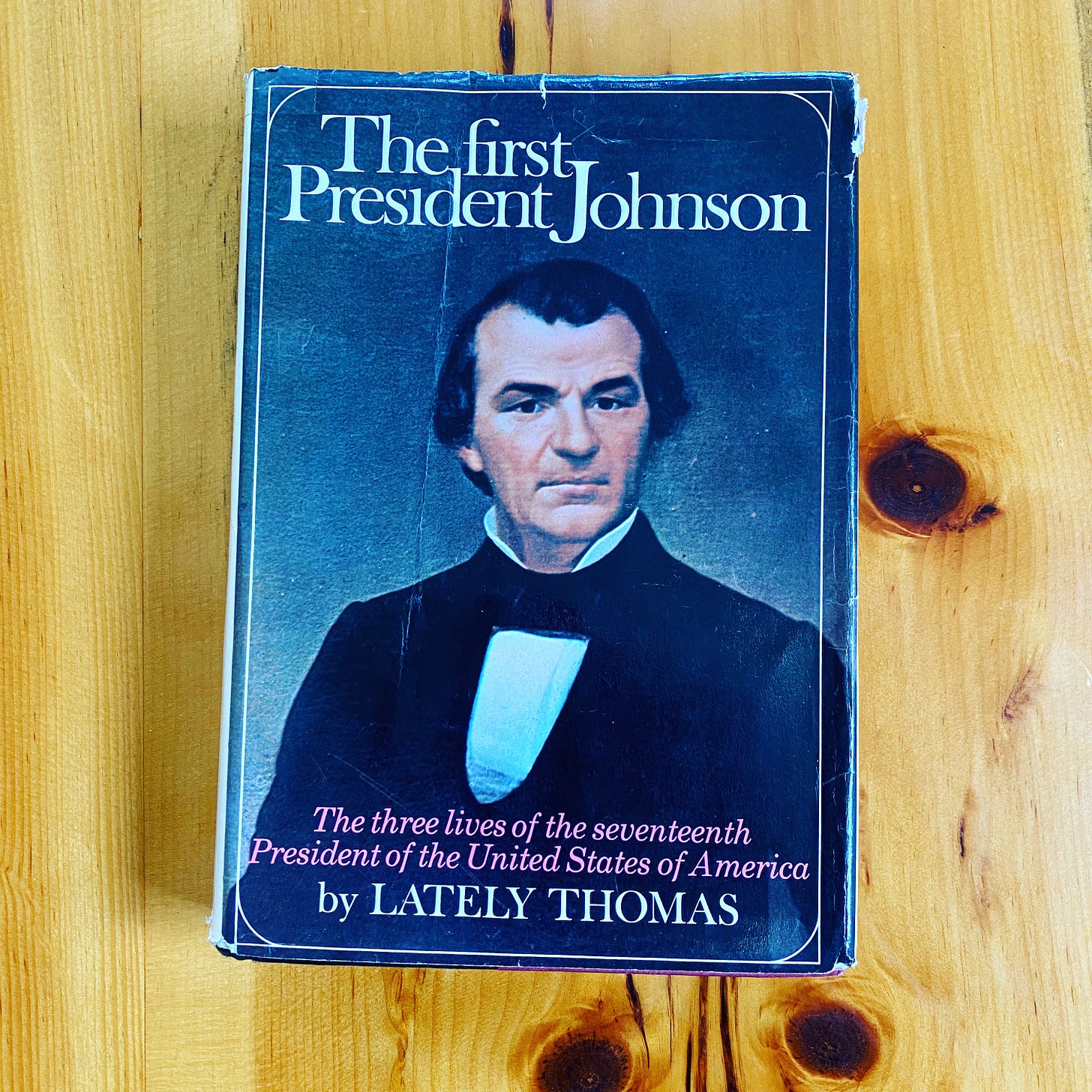 Published: 1968 | Pages: 635
The period after the Civil War, known as Reconstruction, is vastly misunderstood—and under-understood—by Americans. The four years between April 1861 and April 1865 wrecked America. Then the politicians—without their beloved but surprisingly moderate Lincoln at the helm—had to put it back together, taking into account the newly mandated rights of free black men and women.
In that boxing ring of an environment were President Andrew Johnson and Congressman Thaddeus Stevens. It was a fight which ultimately led to Johnson's impeachment and near removal from office.
Stevens, one of the "Radicals," wanted Johnson to rip the South a new one and make them earn back every inch of citizenship and statehood. Johnson's intent was to hew closer to Lincoln's compassionate approach, arguing that restoring unity was more important than delivering punishment. The impeachment itself was a bit of a sham, frankly, but it spoke political multitudes. Johnson was a little bit off the rails at times, but did that deserve impeachment? I'm not so sure. The real takeaway, for our current moment, was that the impeachment process has always been a partisan tool.
There aren't a ton of books to choose from when it comes to studying Johnson's life. Though I don't remember how I came across it, I landed on this older account that delivered a well-paced and highly readable narrative. That said, 600+ pages felt a touch long and it certainly feels like a product of 1960s America—not in a good way.
As with too many of these POTUS reads, this isn't one that I'd recommend to a broader audience. Instead, pick up one of the handful of books that focus on the impeachment battle. Johnson's early life is pretty interesting—he never attended school of any kind—but the Stevens v. Johnson prizefight is the highlight of the drama and had lasting consequences for the nation.
---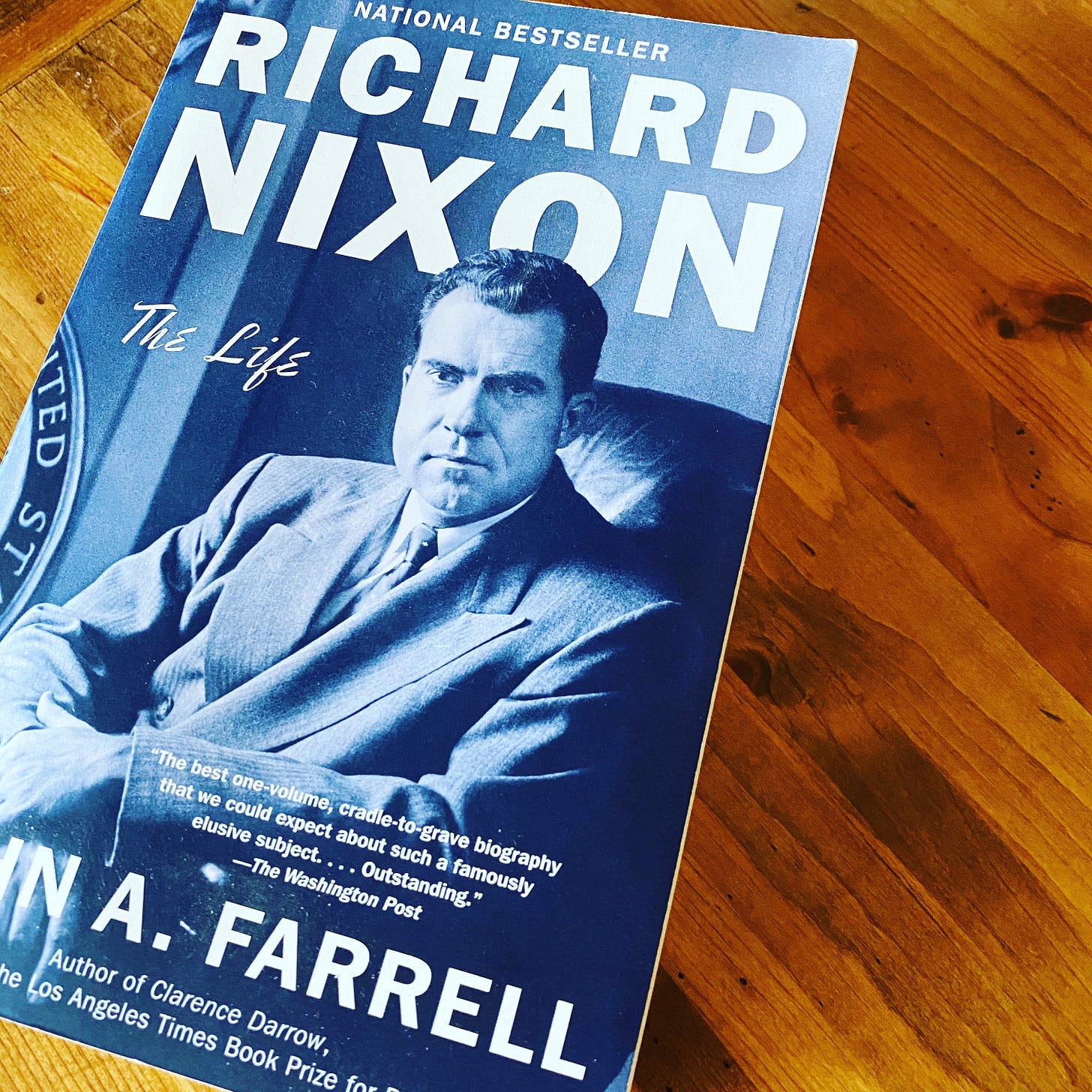 Published: 2016 | Pages: 558
"Nixon would have been recorded as being a very great president had it not been for the fatal character flaw. He did not believe in anything."
Few of my 2020 reads have been as arresting as John Farrell's biography of Richard Nixon. (Yes, the incarceration pun is intended.) I had a hard time putting it down and devoured all 550+ pages in about a week. When I closed the back cover I wished it had been longer, while also feeling like I had a good sense of the man's life. That's about as tall a task as there is in the world of biography.
Nixon came from humble beginnings and was always a pretty odd figure. He was bookish, prudish, not particularly likable. Winning, along with fitting in and being liked by the cool kids, was always terribly important to his well-being and psyche. This led to paranoia, and ultimately, of course, his downfall.
Throughout much of the book, Farrell actually portrays Nixon pretty sympathetically. You can't help but feel for the guy. Richard was incredibly intelligent and even did good work—often great work—for his constituents, and yet very early on in his career became okay with using less than savory methodologies to achieve his goals.
Like the great arc of how it played out in real life, Farrell builds and builds to what everyone is waiting for: Watergate. The eminent biographer covers it masterfully, finding the perfect balance of which details to include and where to skip over the minutiae. Nixon really thought he'd get away with it all and be able to sweep the lying and deceit and criminal activity under the rug—it was a slow burn, until it wasn't.
I can't recommend Richard Nixon: The Life highly enough. This is definitely a book that can be read by a far wider audience than just POTUS enthusiasts. The anti-leadership lessons found within are remarkable, plus it's just a really well-told and compelling story.
That's all for me this week. Let me know what you're reading — I'd love to hear!
-Jeremy